Two Week Review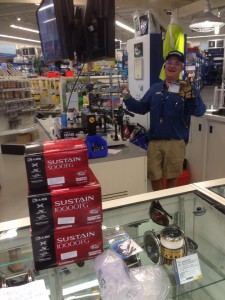 After a somewhat slow beginning to the month of April, fishing has really shaped up during the last weeks this month. Tides are excellent for evening and early night fishing on the out going tide. A fair amount of small (under 2inch) pass crabs along with lots of shrimp have been flushing after dark. While I'm sure they are being eaten, I haven't seen many signs of surface feeding. The best fishing has been in the mid to lower water column.
I stopped by the Fort Myers West Marine Flagship Store and had Ken Taylor spool up the remainder the new Shimano Sustain 10000 FG Tarpon Reels. I've been happy with the performance of 50lb Aqua Blue Power Pro Slick for Tarpon and Snook and re-spooled it on the new tackle.
Tarpon Fishing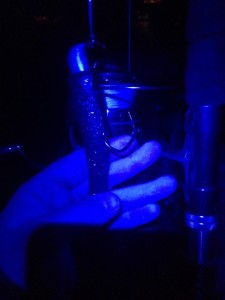 Has been excellent this week. Although there was minimal surface activity and rollers, fish were happy and feeding down deep. I had the chance to try out Hogy Lure Companies new HDUV Jigging Series Soft Baits while fishing out of the Hobie Pro Angler 14′ on Tuesday, they were dynamite and helped me hook up 5 tarpon from 80lbs – 130lbs. I think that the Ultra Violet may help increase visibility for fish in fast moving water at night. It certainly produced well on this trip.
Earlier in the week, we landed one large juvenile tarpon on a live threadfin free lined on top. This was the angler's first Tarpon and his largest fish to date. It was a spectacular, aerobatic fight that kept us on our toes. Glad we got to share that experience while breaking in a friends new bay boat.
On last night's trip, we quickly hooked and lost a large tarpon on a whole, live lady fish free lined. It's always fun to use a variety of techniques to target and catch GIANT Tarpon.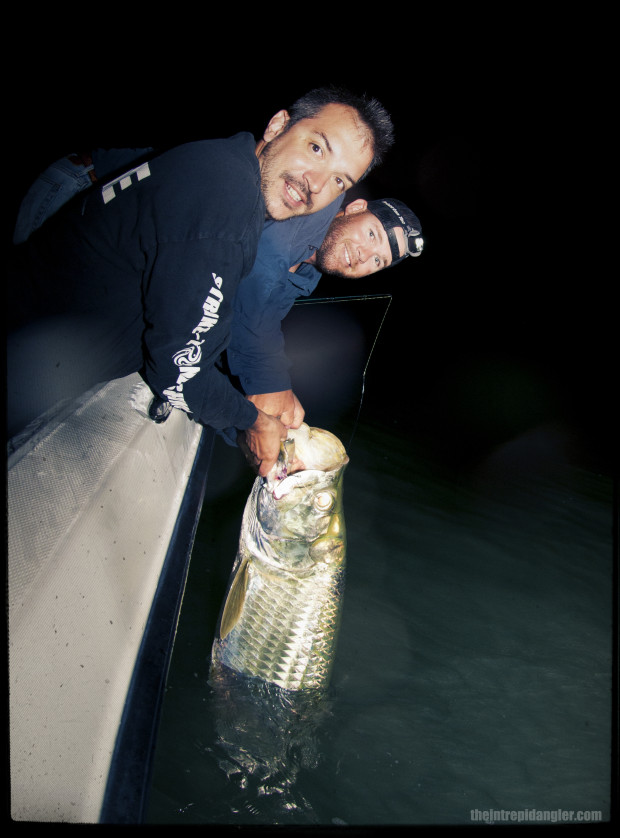 Cobia Are Here!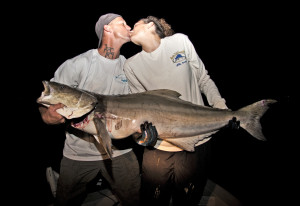 I've been getting great reports from the offshore guys saying Cobia fishing is on fire right now. Someone must have been listening to my jealousy, because we've landed two large cobia this week while fishing inshore at night. It's not very common to catch cobia at night around here and two in a week is even more unusual. The first Cobia was just a little 37″ fish that devoured the new HDUV 9″ Hogy Jiggin' Series rigged on a Barbarian 1oz Jig Head.
Last night, I had the pleasure of fishing together with long time friends, Justin and Sierra Parker. While targeting tarpon, we landed this 50″ cobia on a live threadfin herring fished on the bottom. It put up an excellent fight for 30 minutes before going on the gaff. Two cobia, at night, in one week. Hopefully this trend continues a little while longer. It's hard to beat fresh cobia right off the grill!