Light Setup 7' MH Spinning Rod: You'll quickly find a fast to extra fast action composite spinning rod will be the most comfortable outfit for hours of casting small to medium sized unweighted soft baits, jigs and smaller plugs. These outfits are ideal for targeting fish in the 30lb – 80lb class in open water situations. With a high-quality spinning reel and braid you'll be able to use a moderate drag to subdue your catch while fishing shallow bays, grass flats, channels and shallow beaches. This outfit can be used for large adult fish in the 120lb – 140lb range with an aggressive fighting style, but should be avoided if you find yourself taking longer than 30 minutes to land a fish.
Reel Size: 5000 – 8000 size class
Typical Line: 30lb Braid
Leader: A rod length of 50lb Fluorocarbon
Capt. Ross' Light Outfit: Sewell Custom Tenax 7' MH 17-40lb: These custom rods have gathered a cult following for targeting tarpon, large snook, cobia and permit. The blanks feature a moderately fast tip action, ideal for snap casting 1/2oz – 2oz weight Pro Tail Paddles, Unweighted 10-inch Original Eels and Small Sliders. I'll load these up with 30lb braid on a Diawa Saltist 4500 or Shimano Twinpower 6000. You'll be able to spool up about 300yds of braid on the setup, which is enough for handling the long initial run of large tarpon in shallow water.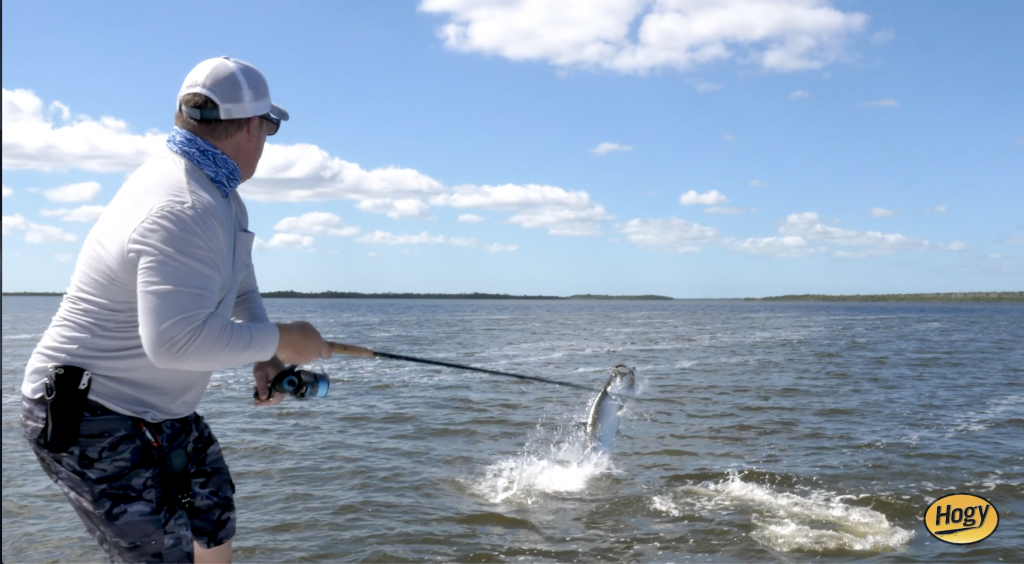 Heavy Setup 8' XH Spinning Rod: If you find yourself targeting tarpon in deep water or heavy current you'll soon be looking for the added benefit of a very sturdy backbone in your rod blank. Quickly after the surface acrobatics subside, large tarpon begin a vertical tug of war that can go on for upwards of an hour. You'll need every ounce of rod strength to steer these fish toward the surface and break their will to hold near the bottom. These heavier blanks will also be quite comfortable for casting heavier 2oz – 4oz Pro Tails and Jig-Head-Rigged HDUV Eels, some of the more productive presentations for bridges, inlets and offshore migration routes. I'll pair these rods with a high quality 8000 – 10000 size reel and 50lb to 65lb braid for added abrasion resistance and knot strength with heavier drags.
Reel Size: 8000 – 10000 size class
Typical Line: 50lb – 65lb Braid
Leader: A rod Length 50lb – 80lb Fluorocarbon
Capt. Ross' Heavy Outfit Sewell 8' XH Hogy Swim Bait Rod 20-60lb: I had the pleasure of helping hand select these blanks for strength, action, weight and fishability. They feature a lightweight composite build, which reduces overall rod weight, making a day of casting and retrieving large lures as comfortable as can be. Traditional heavy-weight live bait rods can work, but due to excessive weight become quite tiring after a few hours of angling. I make sure to use a very high quality 8000 – 10000 size spinning reel with exceptionally smooth drag. Large tarpon can quickly show any weakness in your tackle and drag systems. My preference is the Shimano TwinPower 10000 spooled with 50lb Power Pro Braid. Similar sized reels with 300yd 50lb braid capacity will work, but be sure to choose one with a solid drag system.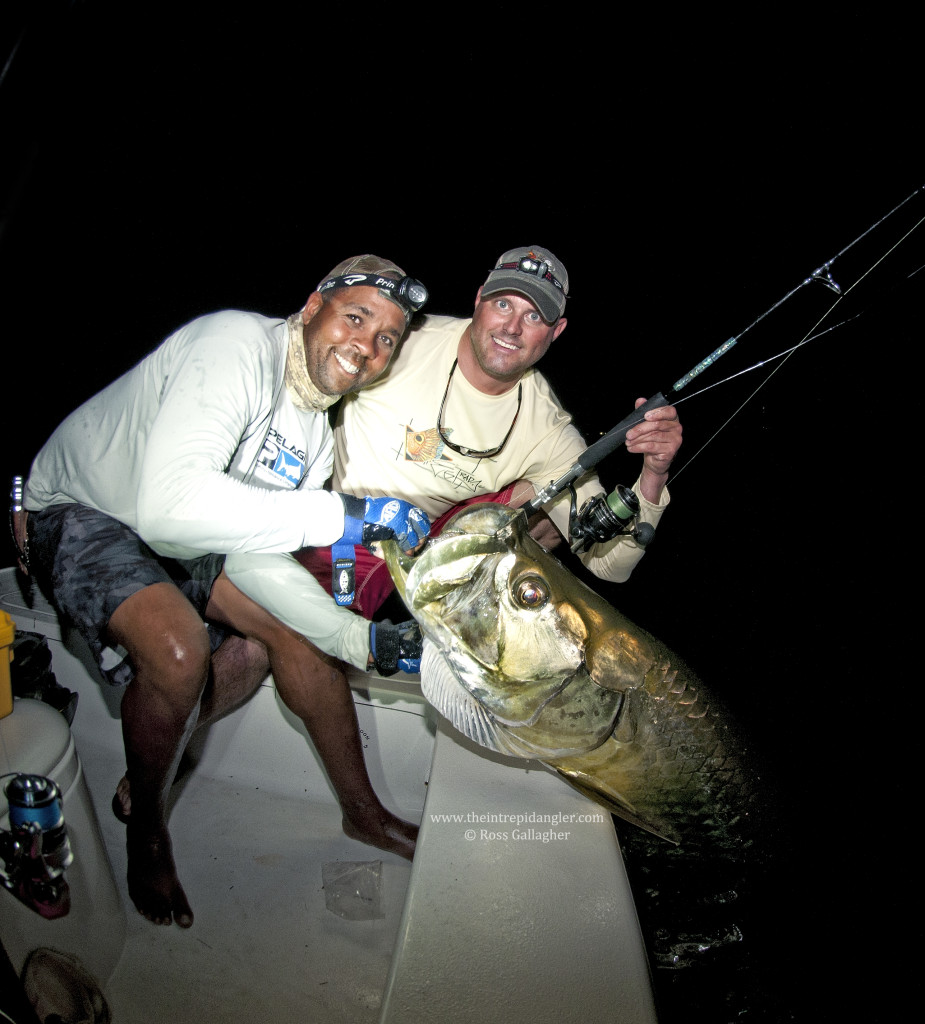 The Shore Tarpon Setup: There are several tarpon fisheries accessible for shore bound anglers and gearing up to target 100-pound plus fish from shore will require some advanced techniques and high quality tackle. Northeast style surf rods ranging from 9' to 12' lengths will greatly improve casting range and the addition of a weather sealed reel will take the inevitable abuse from sand, salt and surf.
Reel Size: 8000 – 16000 size class
Typical Line: 50lb to 80lb Braid
Leader: A rod length of 50lb – 130lb Fluorocarbon
Capt. Ross' Surf Tarpon Rod Custom 10' Century CTS H Spinning Rod: My go-to setup for targeting big tarpon in the surf has plenty of back bone to put some serious heat on a blistering tarpon run. You'll need a high capacity reel, in my case I'm using a Van Staal VS200 with 65lb braided line. This is a great all-purpose, get down and dirty surf setup. It's a bit of a meat grinder, but it holds up in some extreme conditions and won't fail if it gets dunked in some sandy surf water.