6 Tips for Tarpon Fishing
There are dozens of great ways to rig your tackle to target tarpon. I'd like to cover a dependable system that works for my Tarpon Fishing in Southwest Florida. These tips are by no means, the only way to fish for tarpon, but they are a great place to start if you are new to the sport or find yourself needing to upgrade your tackle, knots or techniques. WATCH THE VIDEO ABOVE FOR STEP BY STEP INSTRUCTIONS.
QUALITY TACKLE IT'S YOUR ONLY CHANCE!

While many inshore species can be forgiving with the quality of tackle used to target them, tarpon will quickly demonstrate the dependability of your gear. If you are new to tarpon fishing, I suggest keeping your tackle on the heavier side. It will allow you to land the fish faster for a healthier release. Fighting large tarpon on undersized tackle may be sporting, but the opportunities for shark attacks and death from exhaustion increase with every minute of the fight.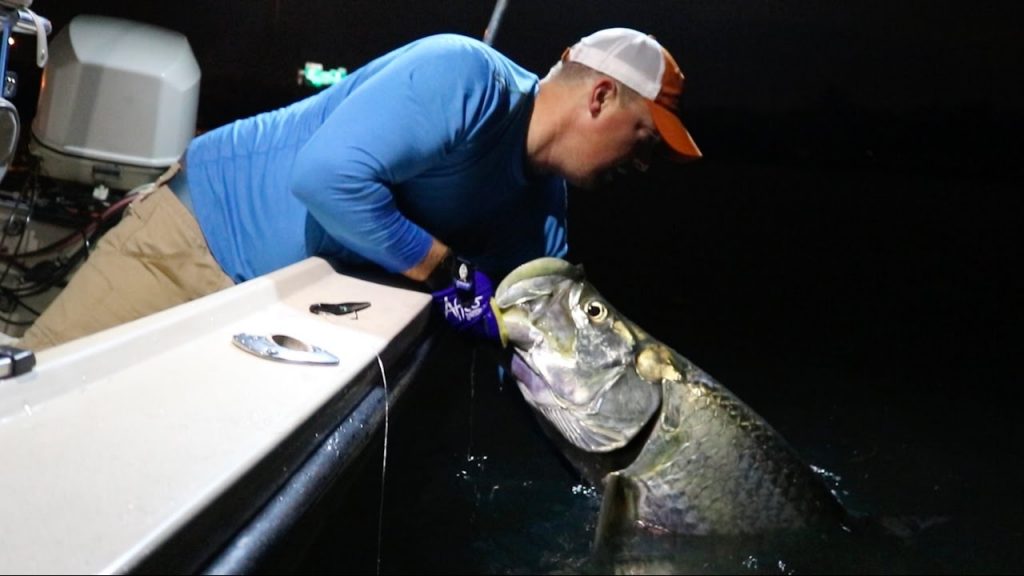 Reels:
If you plan on casting to pods of tarpon with live baits or lures, you will want to invest in a high-quality spinning reel. I've had great success using Shimano Saragosa and Twin Power in the 8000 & 10000 sizes. Which ever brand you use, it's important for that reel to hold at least 250 yards of 50lb braided line. Tarpon can take impressive runs when first hooked, having plenty of lines allows you to pull anchor and begin chasing the fish.

Rods:
When selecting your tarpon rod there a few important points to remember. Choose a heavy action rod from 7′ – 8′. I've had great success using two Tarpon Specific Rods from Sewell Custom Rods in Fort Myers, FL. Make sure the blank has a very strong backbone – you can gauge the backbone by lifting on the rod while someone holds the rod tip. It should have a moderate give in the first 1/3 of the rod then taper into a stout backbone section. Without a strong backbone, the rod will lack the necessary power to quickly land a large tarpon. Most anglers prefer a rod that has a slightly soft tip for casting tarpon baits and lures. You should expect 4inches – 6inches of flex that help launch small crabs, threadfin or soft baits like the Hogy 10inch Original Series.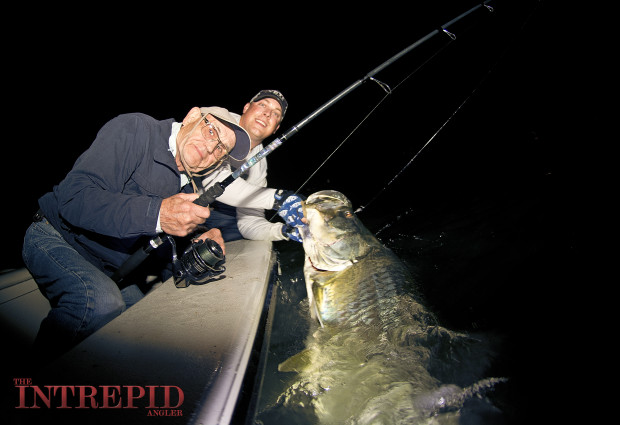 Line: 
Braided line is no longer a "new thing" and it's recommended that you spool up your reels with it when casting for tarpon. I normally use 50lb Power Pro Slick Braided Line. I choose this middleweight line because I target fish along bridges and along the beaches. It's held up well when I need to tighten up the drag and steer a fish away from the structure, yet it still has the casting distance needed for spooky fish on the beaches. Most pros choose a high-quality braided line in 30lb – 65lb test. Choose lighter line if you fish open water areas like the flats and beaches, heavier lines are best suited for close quarter fishing near heavy structure like bridges or jetties.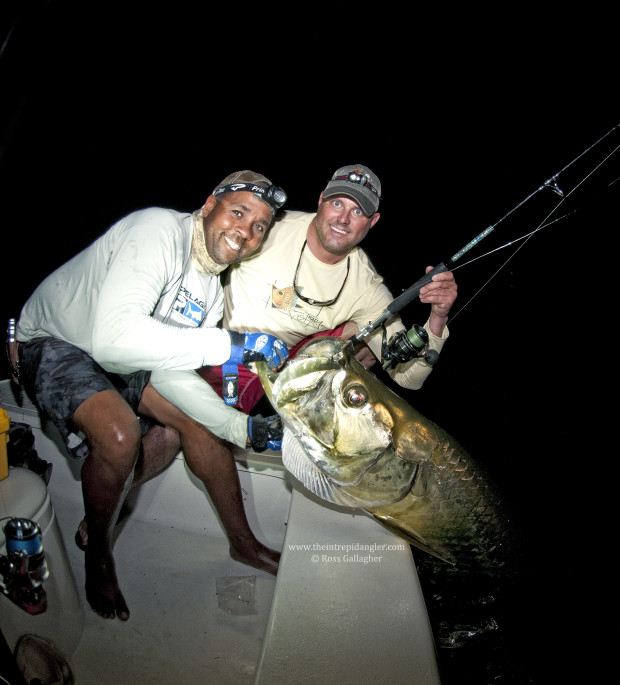 Leader:
Tarpon has very abrasive mouths and quickly wear through light leaders. I normally use leaders in 50lb – 80lb. Use lighter leaders during the day and heavier ones at night. Make sure it's a high-quality leader material, this is one of the most important links between you and the fish. During the day I like Seaguar Fluorcarbon and at night I'll usually try to go with a less expensive material like Triplefish Mono.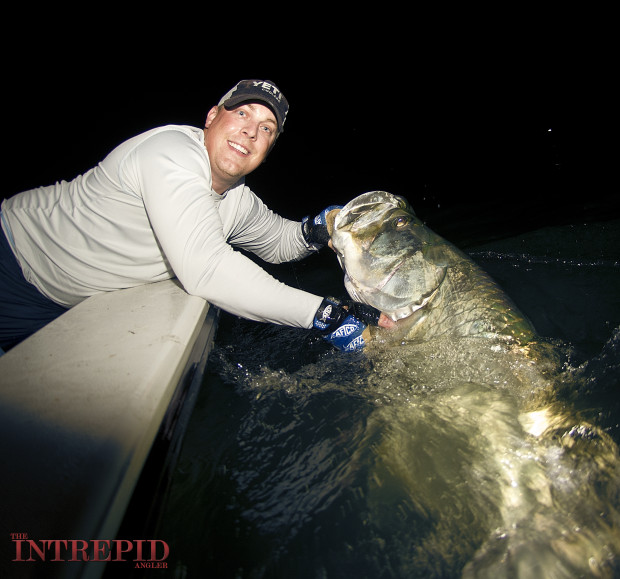 Hooks:
It's common practice to use circle hooks when fishing for tarpon. They not only offer the best hookup ratios, they also inflict the least amount of damage to the fish. Depending on the bait or lure you are using, choose a stout circle hook from 4/0 – 10/. Most Captains use a 6/0 size hook when targeting tarpon with small crabs and threadfin. I also use a 6/0 circle hook when using Large Hogy Soft Baits for tarpon.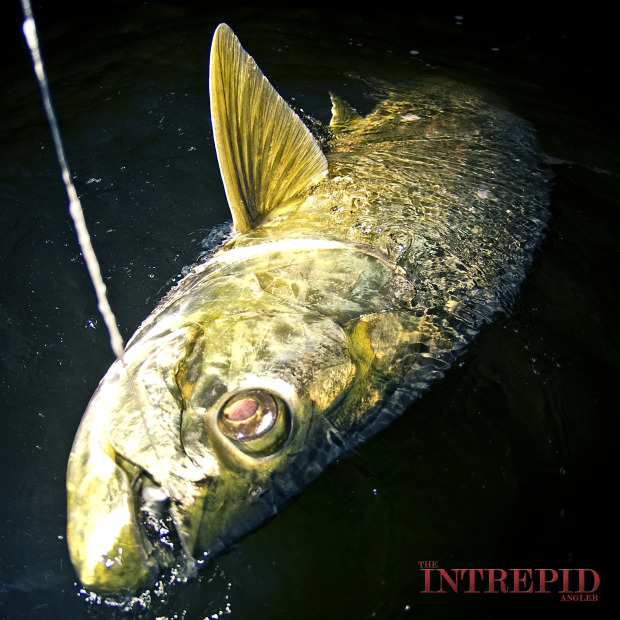 Lures/Baits:
Live baits are the most common way to target tarpon, but they are not your only option! Large Hogy Soft Baits are a dependable option when targeting tarpon. They can easily be rigged to suite a variety of scenarios. While they are most commonly seen on the flats, these large soft baits work great in deep water channels, inlets, and passes. Use unweighted circle hooks when fish are feeding near the surface. When fish are suspended or holding the bottom in deep water, Large 9inch Eel and 8inch Paddle Tail Swim Baits are an effective option to jig for tarpon. When fish are keyed in on smaller profile baitfish, the Hogy Pro Tail Paddle series is very effective for surface and mid water column presentations.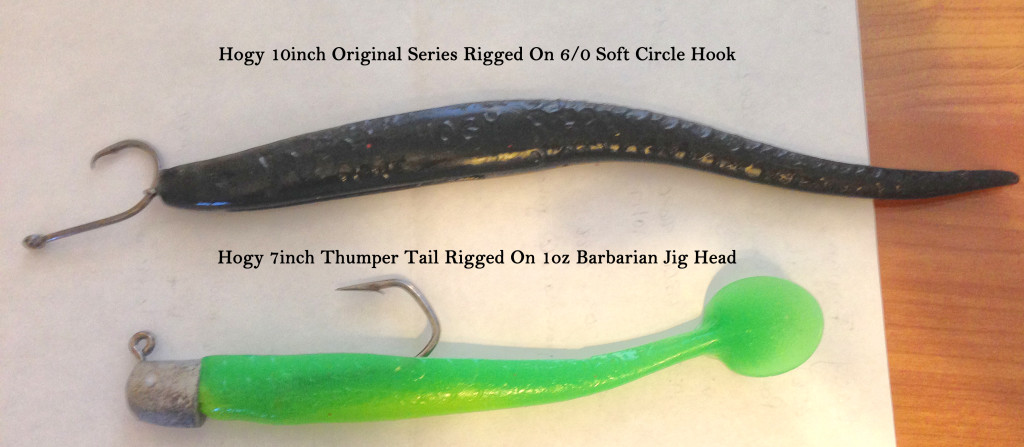 Gloves:
High-quality fishing gloves are mandatory for safely handling large tarpon boat side. While lacking teeth, the inside of the jaw is very abrasive and can easily tear water-softened hand tissue. I always recommend wearing quality gloves, like those from AFTCO. I prefer the finger-less model Short Pump Gloves for safety and comfort. Check out the full review here.