As an avid sportsman and regular traveler, I've thoroughly enjoyed the past year in my 2014 Toyota Tundra. It's offered plenty of power and towing capability, along with a very smooth ride. Over that time, I found myself in many situations that the unprotected truck bed was causing me grief.
Meeting an Outdoorsman's needs.
Living in Southwest Florida, rain (often heavy) arrives like clockwork during the summer months. Using the bed as storage is great, but can quickly become a scramble trying to pack any gear that needs to stay out of the rain into the cab. This task quickly becomes impossible when my wife and two kids are along with me. So, there were times that things just got soaked in the back. Not a big deal, but still a pain.
Rain is one thing, trying to keep honest people honest and prevent theft is a real concern while traveling around town and on the road. Transferring valuable gear into the cab for every restroom break, grocery store or restaurant gets a little old.
I needed a cover for the truck bed. But I had a few concerns before choosing one.
STYLE: I really enjoy the look of my truck and wanted to make sure that the cap flowed with the vehicle. The last thing I wanted to do was make the truck look boxy and cheap.
PRICE: I've got a family of four and live modestly. I value quality and performance and am willing to pay for it, but I've got for 100% comfortable before putting out some serious cash.
SERVICE: When making a large purchase, I try to buy from reputable companies with a positive customer service history. If I have to choose between a couple similar items, I'll try to purchase one made in the USA. I'll also look at their warranty and reputation of the local dealer to make sure I'll be able to get service issues addressed without a long drive or major hassle.
FUNCTION: I needed a cap that would stay dry in a harsh environment. Summer storms in Florida are some of the most intense in the country. I need tight, water resistant seals to keep my cargo dry in any conditions. I choose to add a few extra options including a remote locks paired with my truck keys, auxiliary 12v power station near the tailgate that can be run to an inverter when needed and a removable, sliding front window for cleaning access to the cab's rear window.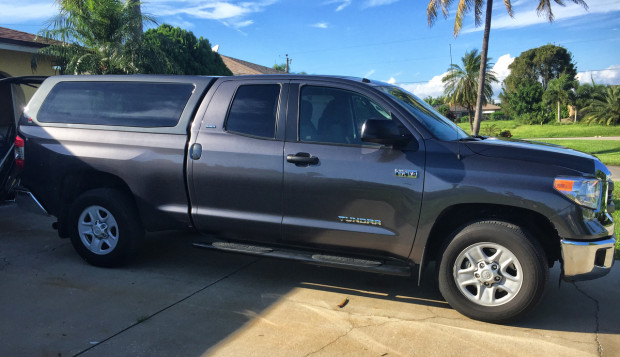 Review after 8 weeks:
LOOKS: To be honest, when I picked up the truck after the cap being installed, I wasn't 100% in love with the style. I was so used to the open bed and aggressive look of the Tundra, the change to more of a full sized SUV appearance took a little while to sink in. The 100XQ matches the Tundra's lines really well and flows nicely to the tailgate. Now, a couple months in, seeing my truck with the cap on seems natural.
DURABILITY: The cap is holding up very well so far. I haven't seen any water intrusion after heavy storms and highway driving in the rain. I have had one small piece of rubber gasket peel off from the rear window corner. These areas receive the most abuse from opening and shutting the window and it shows. Mentally, I'd be prepared to have these replaced every year to maintain water tight integrity, though cosmetically, you wont notice it.
PROS:
STYLE – Blends in perfectly with the Tundra, although it may take time to love it.
WATER TIGHT – No major water intrusion so far.
SECURITY – Power locks are awesome. Dark tinted windows keep contents out of sight.
FIT AND FINISH – This cap is quality and it shows. Paint job was a great match.
CONS:
WEATHER STRIPPING – Damages easily and will need to be replaced annually to stay weather proof. Probably a cheap fix and may be covered by warranty.
STYLE – It may take time to fall in love with the new look of your truck, but once you do, it feels natural.
COST – This cap isn't cheap, but the value of the product is reflected in it's quality.