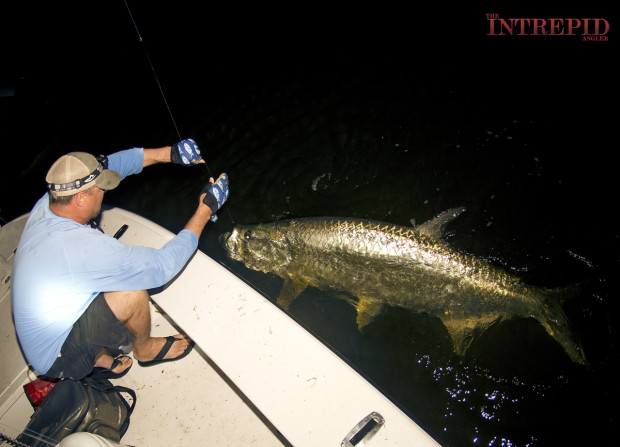 It's an exciting time to be an angler in Southwest Florida. Our local inshore fishing is firing on all cylinders with a great day and night time bite for snook and tarpon. Most guides and experienced anglers will be targeting beach tarpon running from Bonita Springs to Boca Grande Beaches and all points in between. On calm mornings, fish can be seen along the surface in rolling pods.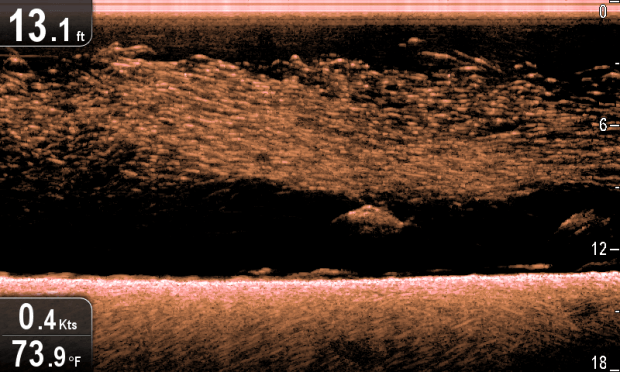 Top daytime baits are frisky threadfin herring or silver dollar sized blue crabs fished under a cork. Be considerate of others and make sure to approach schools quietly with a trolling motor or setting up a drift. There can be few things more frustrating than inconsiderate anglers plowing over a school of fish with the outboard.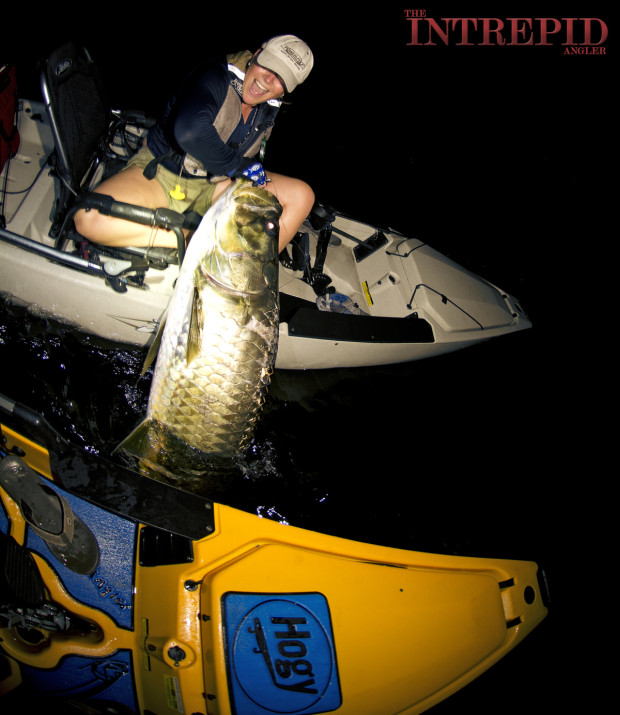 I've had limited opportunity to head out for the daytime bite. The 3-4 trips per week at night have been successful with decent numbers of large fish caught using large Hogy Lures soft baits rigged on Barbarian Jig Heads. Surprisingly, silver color baits have been producing very well over the last week. Coastal and river water clarity has been exceptional and the silver flake colors have been producing quite well. Don't throw away your black soft baits, as soon as the water gets a bit darker, the fish will be favoring classic night colors like Black and Tinker Mack.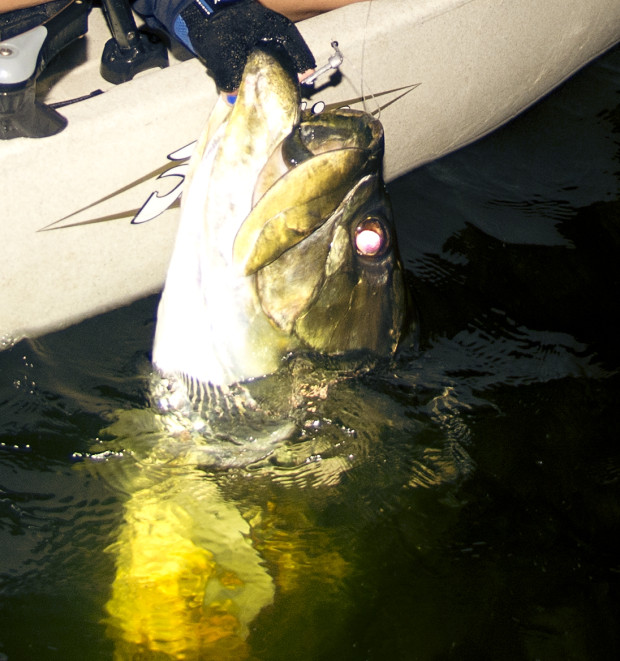 On a recent night trip based in the upper Caloosahatchee we wound up jumping 7 fish in the 100 – 140lb class. It was a very slow bite until the moon began to set and the bite quickly picked up with some super aggressive fish blasting Hogy HDUV Paddle Tails and going 5-6 feet airborne.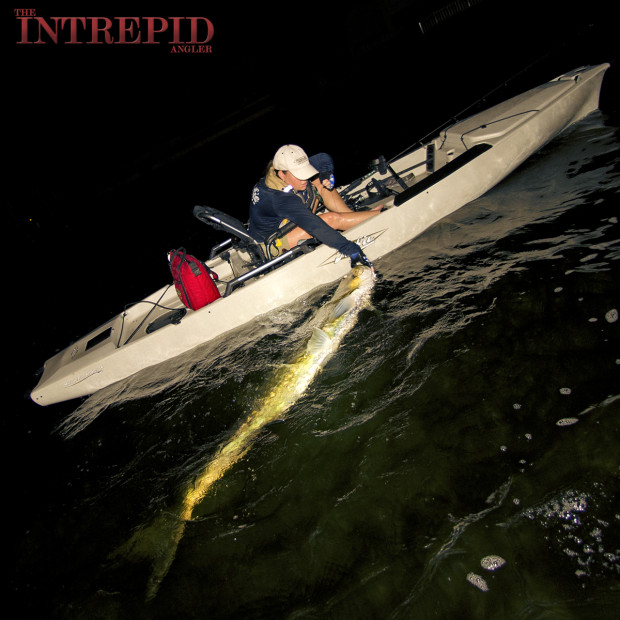 While out that night, some friends ended up with a quality fish that ate a live lady fish. It was the anglers first tarpon and they had quite a work out battling the fish for nearly a mile down river.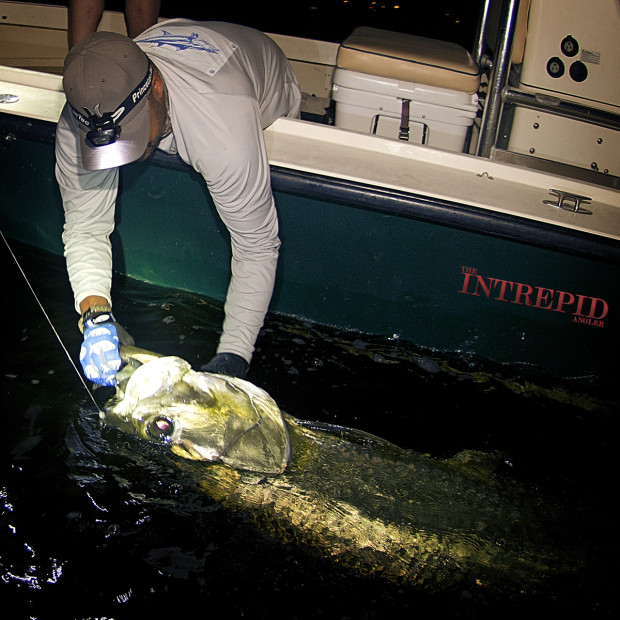 One night during slack tide, I began experimenting with the new GLOW Squinnow Jigs from Hogy Lures. These are small, 3inch jigs that weigh a hefty 2.5oz. They proved to be idea for jigging deep water bridges for big mangrove snapper and even some close to slot sized gag grouper. These little jigs will certainly be a fun and effective choice for near shore snapper and porgy fishing.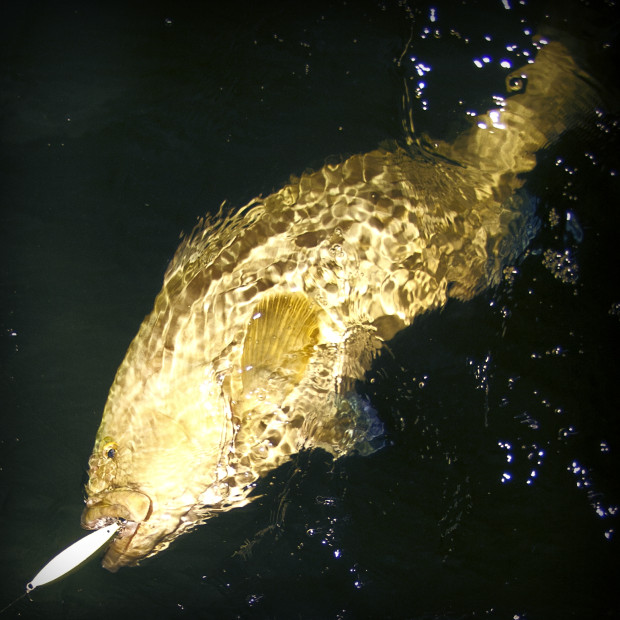 Grouper was pulled up from this rockpile.