I'm not sure why I waited so long to bring Cast Iron cookware into my life. I enjoy preparing and cooking home made meals at the house and the outdoors. During a camping trip last October, a neighboring camper was using the Camp Chef Explorer Two Burner Stove and I was immediately impressed. It may take a total of 2 minutes tops to setup the grill, which can be stored in canvas tote bag designed for the unit (sold separately). The grill height is perfect and comfortable for me too cook on (I'm 5′ 11″). The height is very similar to the cooking range we have in the house. The grill features two separate burners, fueled by a regular LP tank. There isn't a self ignition switch, which is fine with me. They always seem to go out quickly anyway. The fuel control knobs are sturdy and easy to control. There are also two individual regulator adjustment dials to give you even better control of gas flow to the burners.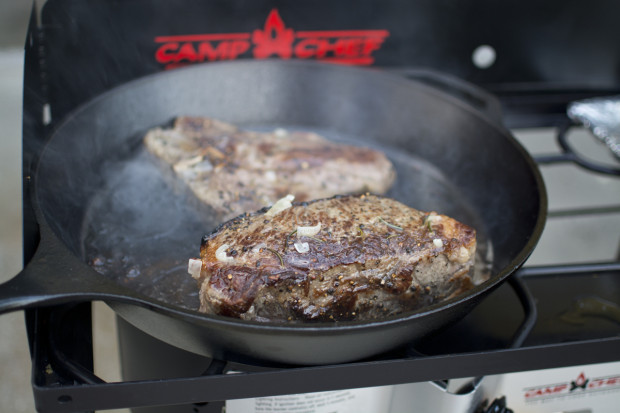 If you can't stand the HEAT: Take caution when choosing which cookware to use on the Camp Chef Explorer. This puppy puts out some serious BTU's and offers incredible heat for cooking in Cast Iron Cookware. I do not recommend using your nice non-stick or stainless cookware on this burner. With such a high heat output, you can easily damage your regular cookware while leaving the burner unattended.
Camp Chef Grill Features:
Two 30,000 BTU cast-aluminum burners give you the power to cook whatever is on your menu
Three sided windscreen helps protect flame from wind
Fully adjustable heat-control dials give you more control over heat
Removable/Adjustable legs for storage/portability and setup on uneven ground
Durable, rugged design built to last
Regulator and 3 ft. hose included for use with a bulk propane tank
Out of the box ready to cook in seconds
Emergency preparedness recommended
Lodge Cast Iron Cookware: As mentioned before, I'm a bit embarrassed that it's taken me this long to explore the joy of cooking in Cast Iron. Lodge brand Cast Iron Cookware come highly recommended and they are still made in South Pittsburg Tennessee as they were over one hundred years ago. Once I received my pre-seasoned pan, I did go ahead and season it myself a couple times in the oven before cooking any meats in it.
Lode Cast Iron Cookware Features:
Foundry seasoned, ready to use upon purchase.
Use on all cooking surfaces, grills and campfires.
Oven safe.
Sauté, sear, fry, bake and stir fry to heart's content.
Made in USA.