November has always proven to be a great month for targeting some of the years biggest snook. These big breeders have finished their spawning ritual offshore and have begun the migration back into the wintering grounds. Schools of these fish will stop and feed for a few weeks in the passes, making them somewhat concentrated and available to many anglers.
The most difficult about aspect about targeting these fish is timing. Generally the best action begins well after midnight, often peaking just a few hours before sunrise. If you want to avoid weekend traffic, plan on loosing a little sleep during the work week.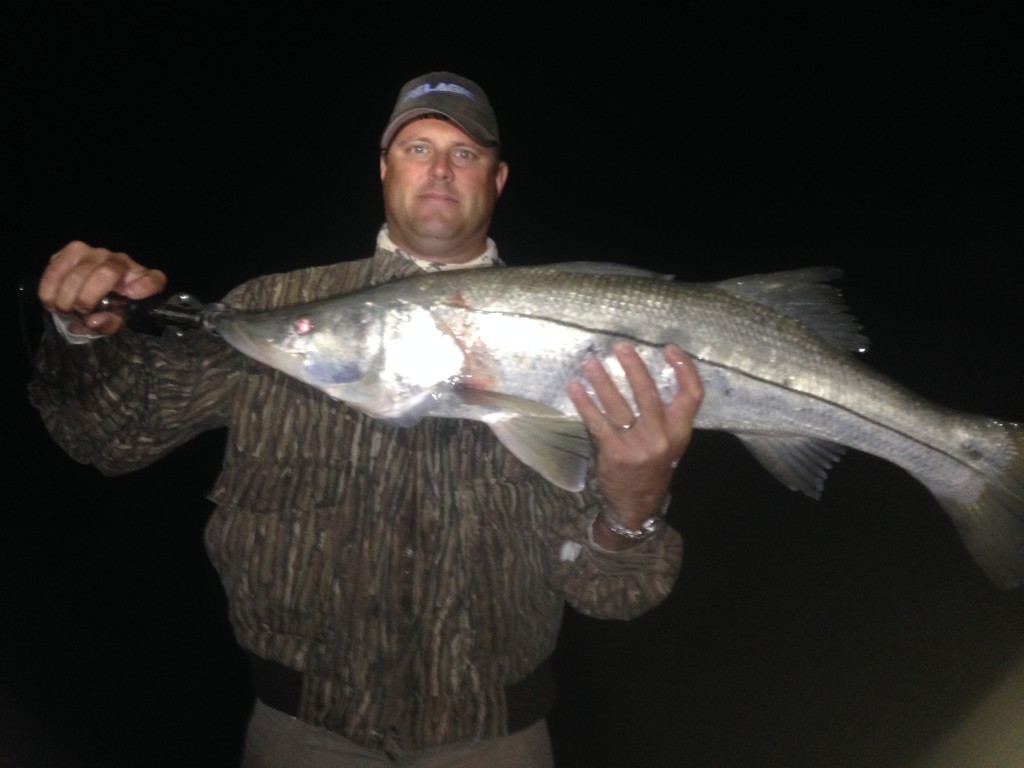 Gearing up for these fish requires you to break out the offshore tackle. These big snook didn't achieve such size by being stupid. It's going to take very heavy tackle to remove them from structure in heavy current. I'll often sacrifice number of bites for a better landing ratio and use very heavy leader – 125lb test is my go to, while 80lb is about as light as I'll fish. It may sound like overkill, but heavy barnacle growth will slice line in an instant, leaving you standing there with your mouth hanging open thinking WTF was that. I reccomend using heavy rods built by Sewell Rods of Fort Myers, FL. These rods can handle the abuse of the biggest fish out there.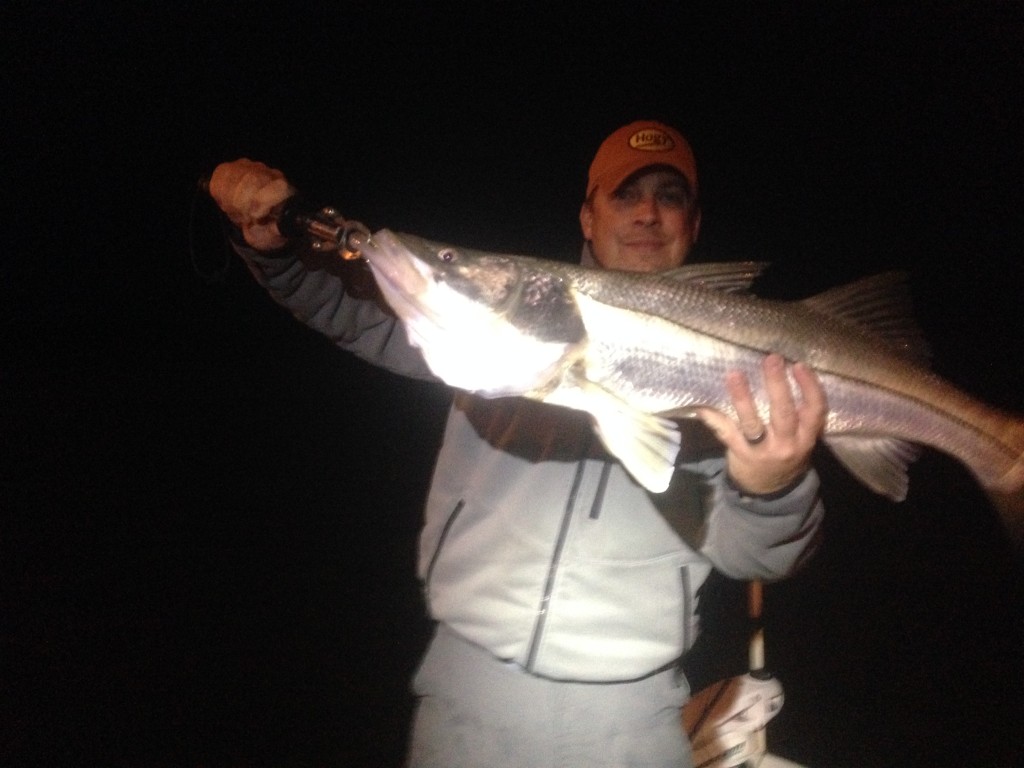 I prefer to fish artificial baits, which can be productive on these big fish if they are in the right mood. Large 7″ swim baits or 10″ Hogy Jigging Soft Baits have caught many big snook. If they are snubbing the soft baits, large swimming plugs can also be productive. Work them deep and close to structure, plan on loosing a few lures to snags, if your not tight to cover, your not going to catch fish.
If you choose to use live or dead bait, make sure it's big. These fish are lazy and don't want to waste effort on small meals. Mullet, Ladyfish and Pinfish can all work well when presented properly. Make sure to use a very stout, but appropriately sized circle hook for your bait. Circle hooks are very effective for hooking up the big fish and greatly reduce gill or gut hooking. I 100% recommend the use of circle hooks when targeting over-slot snook. Heavy tackle will not only allow you to land the fish, but doing so quickly will greatly increase the likelyhood of a healthy release. These fish are making a slow comeback and need to be handled with great care. Make sure you take the time revive each fish until they swim away.
Go out and enjoy what SWFL has to offer!