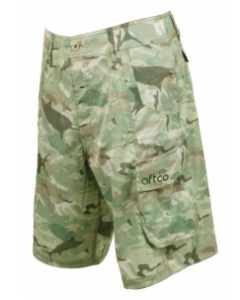 I bought my first pair of AFTCO's new Tactical Fishing Shorts in late April of this year. After 2 months of intense fishing, sun, sweat and blood, I feel it's been an appropriate amount of wear and tear to give them an honest review. Are these shorts worth the money? Do they hold up to constant wear and tear. Will they feel better than what I have now?
Fit: Once I put on these shorts for the first time, I immediately noticed how comfortable they were. The shorts feature AFLEX 2- Way Stretch Riptop Dobby (which in short) means the fabric has stretch to it. This material is very similar to what high end camping tents use. The material is very soft to the touch and easily moves with your body. I'm a bigger guy and have pushed some clothing to the limits when sitting, squatting or bending to grab fish, rig gear, take a photo, etc. These shorts easily adjust and form to my movements with out any fear of rips or tears.
Fabric: The camo pattern on these shorts is great. Whether the blue or green camo, both offer a neutral brightness, not too drab or overly colorful. I personally feel comfortable wearing these from the boat to a poolside Tiki bar or family restaurant without feeling out of place. The material features DWR (Durable Water Resistant) Finish that easily beads off fluids and potential stains. This is great for meat hunters who put a lot of blood on the deck, it's also great for parents with toddlers (like myself) who always seem to ruin your clothing. You'll also notice that the material dries exceptionally fast, even at night without sunlight or high temps to speed up evaporation.
Pockets: These shorts offer a multitude of storage options. I personally tend to stow most of my belongings on the boat to avoid unwanted mishaps. I have gotten comfortable using the fishing pliers pouch of the right thigh. This pouch accommodates a pair of large pliers and secures them into place with Velcro patch. I don't have them attached to the shorts with a lanyard, but the Velcro connection is secure enough to holster your favorite pair.
Durability: These shorts seem like they will stand the test of time. I wear them often in demanding environments and haven't seen any signs of wear and tear. All of the seams are very tight and clean, without any abrasive stitching to irritate sensitive skin. All in all, I don't see why they can't last for a few seasons of hardcore fishing. For the casual angler, they may be the last pair of shorts you'll need.
Overall: Despite a modest price tag of $62, these shorts offer an array of features and material worthy of the expense. If you spend a lot of time on the water, in hot, humid demanding environments, these may be the perfect shorts to keep you dry and comfortable. They fit my style of fishing and outdoor activities in Southwest Florida, which is one of the hottest, humid and most demanding regions in the country.