We were only 65 miles from the house, the truck was carefully packed with a weekend's worth of gear and supplies and a pair of papaya yellow Hobie Kayaks were in tow as we closed in on the Myakka Park entrance. The landscape quickly eroded away from interstates and housing developments into small brushy pastures tucked in between old oak hammocks blanketed in wispy, dark grey Spanish moss. Our cell service quickly faded to no service as we pulled in past the front gates. I firmly held the power button down and felt a silent sigh of relief in this simple, yet infrequent detachment from technology.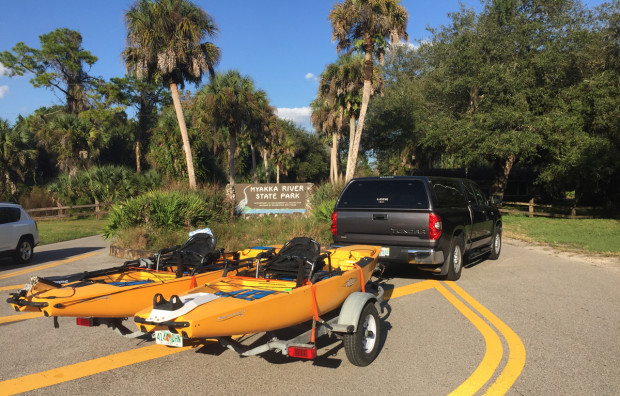 This was our first visit to Myakka State Park. Designated as the state's only "Florida Wild and Scenic River" by Florida State in 1985, has since been offered preservation and management including a 34 mile stretch of the river within Sarasota County, Florida.
A Young Family Camping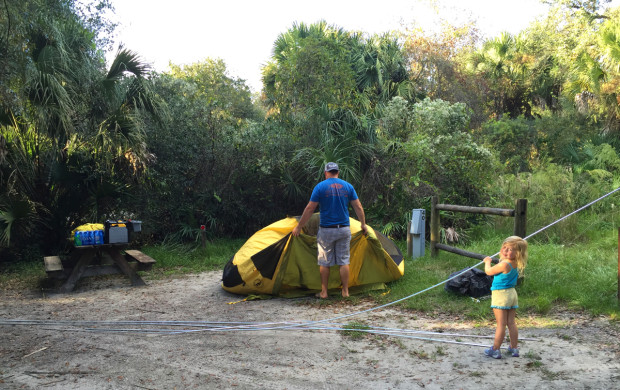 This was only our second time tent camping as a family. Setting up camp, we had a handful of campers remark on our bravery as parents when they noticed our 16-week-old son rocking in fuzzy, small swing, situated over our tent's entryway throw rug. Our daughter, closing in on her 4th birthday and fresh off her last camping trip just two weeks before, dove right into enjoying the casual outdoor atmosphere. Normally quite shy to strangers, she confidently greeted "hello" as she passed by our neighboring campers. It made me smile to see her come out of her shell so quickly.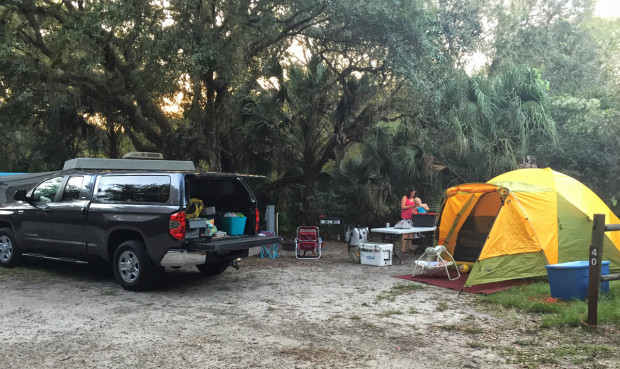 While we may still be "rustic" camping in practice, we sure didn't pack light for our trip. A line of Yeti coolers rounded out the corner of our folding table. Serving double duty as seats for the kids. A pair of cast iron pans was laid out on our new Camp Chef double propane burner grill that was assembled near the corner of our site. A box fan was blowing a light breeze over our son, napping away in the swing. We added a few thin throw rugs in and around our tent for foot comfort and we were set for a weekend in an Old Florida paradise.
The first night we stayed close to camp, grilling burgers and dogs while the kids played drew shapes with palmetto branches in the gravel. As the sun was setting, a small bonfire was stoked and we enjoyed the remainder of the night talking and laughing while roasting smores in the orange glow.
First Daybreak
We awoke as the sun poked through the wispy Spanish moss hanging high in the oaks above our site. It was just before 6am and we could already here a few neighboring campers rustling in the twilight as well.
Morning rituals with kids are never quick, but we made good time and had cleaned up from breakfast by a quarter to nine. It was time to hit the river for our first drift along the Myakka.
I glanced over the folded paper map we received while checking in at the gate. Two lakes within the park converge and begin the defined portion of the Myakka River. Small canoe icons noted that the park offers several launches for kayak and canoe access. Small boat access is available along the main lake and light aluminum johnboats can be manually launched along a few points of the river.
Exploring The Myakka
As an angler who spends a vast majority of my time fishing saltwater, it was a welcome break to slide the Hobie Kayaks down the mud bank and slip into the golden-black, fresh water of the Myakka. The shorelines were lined with tall grass, well over shoulder height. Just out from the shoreline, thick patches of lily pads and other floating vegetation stirred memories as a kid fishing freshwater ponds for largemouth bass. Every inch of shoreline looked promising to hook into a big bass. Heavy timber laid over into the rivers edge, the tree's root balls seemed to defy nature, grasping into the loose soil of the bank, holding on while nearly horizontal.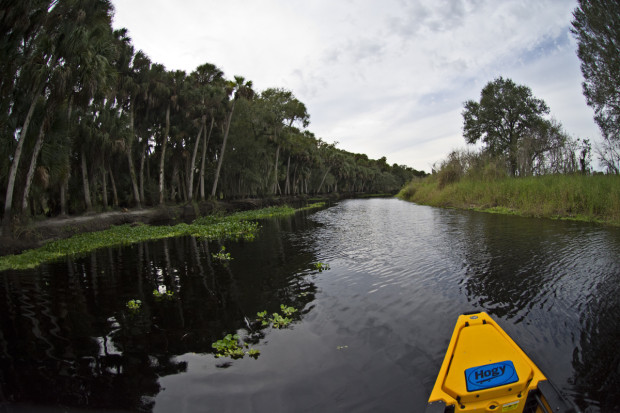 This was a totally new body of water for me to fish. My daughter sat behind me in the kayak, cheering for a fish to be caught immediately. As we drifted downstream in the steady current, I pitched lures along the shorelines and tree stumps, thoroughly working every break, bend and eddy I could reach as we made way downstream.
It was close to an hour before I hooked my first fish. I was expected a chunky largemouth bass to be our first catch. As the fish broke water, the familiar golden shimmer of a freshwater snook broke the surface with a violent headshake. I really wanted to catch a bass, but I wasn't going to complain about any fish on the end of my line. I felt like a hero as the small snook came boat side, my daughter Abigail cheered heroically as we lipped the fish for a quick photo before releasing it back into the dark water.
A few minutes later, we hooked into another snook, this one about 26 inches long. My heart filled with joy as my daughter shouted triumphantly, "We got one!" Few moments in fishing made me as excited about a fish than watching my daughter be genuinely excited in that snook splashing us next to the kayak.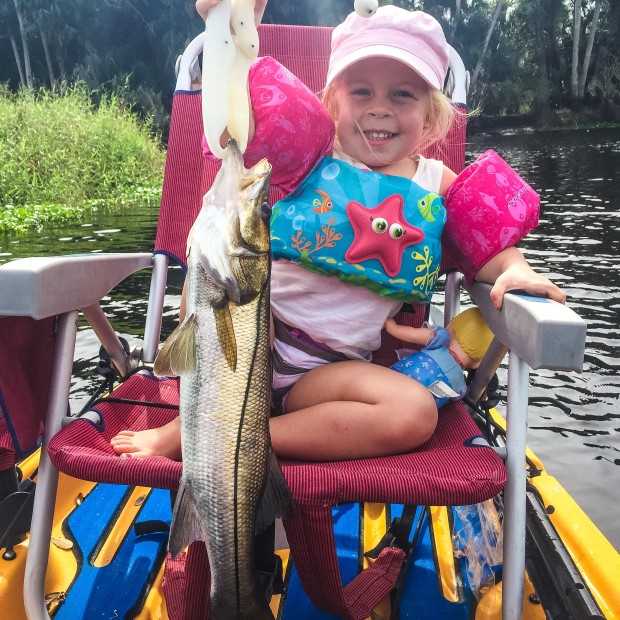 No Lack Of Big Lizards

The abundance of wildlife along the river's edge can keep viewers entertained for hours. Great blue herons and egrets hunted small fish among the lilies in the shallow pockets along the winding grassy shoreline.
Alligators were held up in nearly every spot that was out of the wind and current. It was breezy the day we were on the water and most alligators were lazily floating along the rivers edge. We must have seen two-dozen in the 3 hours spent on the river. Not a single one expressed interested in our kayak or the fish on the end of our line. These prehistoric lizards were content just trying to stay warm floating above the shallow, black muddy bottom.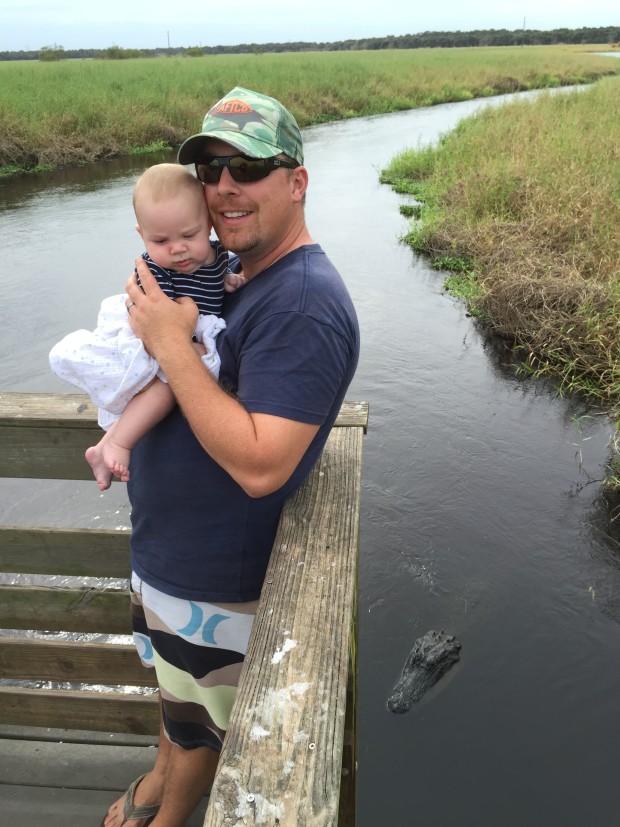 The Main Lake
The main tourist hub of the park lies in between a thick Oak Hammock and shore shores of the Upper Myakka Lake. A small general store offers basic provisions for campers. A small restaurant situated on stilts sits right along the bank of the lake, offering a great view for guests while dining.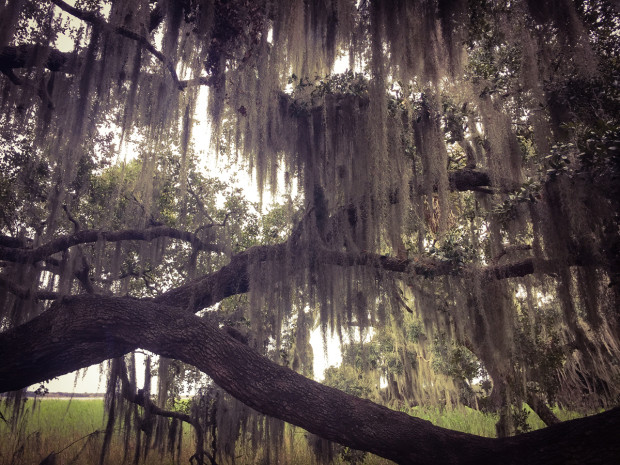 Due to high winds and surface chop on the lake, we decided to not kayak the lake during this trip. I spent some time talking to a younger kid working the kayak rental station about recent fishing reports. He noted several largemouth in the 8-12lb range being taken in the past couple weeks, floating large live bluegills and tilapia in the lake and outflow along the southern shoreline. But, bait shop stories always sound like this, it seems.
Packing Up
The weekend we spent at Myakka State Park together was one for the books. We laughed, we cooked, we hiked and we fished, together and enjoyed our moment in "Old Florida". On the drive home, we booked our trip for next year. See you again soon, Myakka.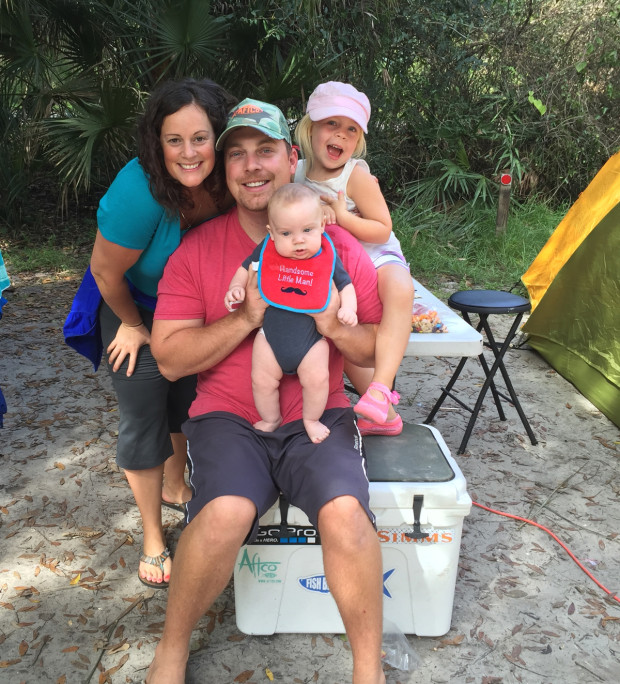 *NOTE FROM THE AUTHOR: BOOK AHEAD

The best camping conditions for the park are November – March, peak season for tourism in Florida. We tried to book another weekend the following January and the entire park was booked solid until mid April. Plan on booking your camping trip 6-12 months in advance.
CONTACT MYAKKA STATE PARK:
13208 State Road 72 – Sarasota, FL 34241
(w) www.floridastateparks.org or www.myakkariver.org
(p) (941) 361-6511
NOTABLE GEAR
Big Agnes Tensleep Station 6 Tent: https://www.bigagnes.com/Products/Detail/Tent/tensleepstation6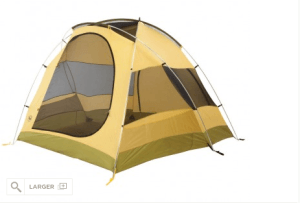 Yeti Hopper 30 & Tundra 50: http://yeticoolers.com/coolers/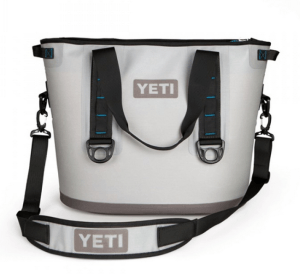 Hobie Pro Angler 14: http://www.hobiefishing.com/mirage/mirage-pro-angler-14/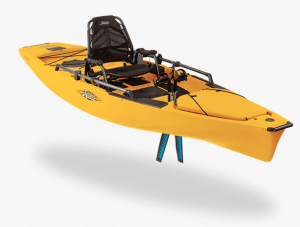 Camp Chef Explorer Two Burner Stove: http://www.campchef.com/explorer-two-burner-stove.html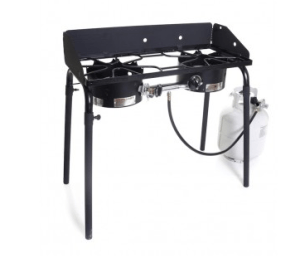 Raymarine A98 Chartplotter: http://www.raymarine.com/view/?id=4954