I've still got a dull adrenaline buzz from yesterday's catch and I've been trying to enjoy every last drop of it, I know when it's gone, I'll want to go right back on the hunt again.
It's been 3 years that I've patiently waited for the right opportunity to target Swordfish along South Florida's coast line. Fortunately, I came into contact with a successful commercial sword fisherman that has a very unique and impressive way of catching daytime swords. Capt. Corey Burlew sent me an email in late 2012 talking about a technique that used Hogy's largest soft baits as an artificial eel lure to successfully target fish upwards of 400lbs.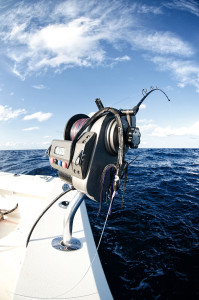 Throughout his emails, descriptions of his technique emerged. While I had an idea of the dynamics for fishing deepwater, it was still a very foreign concept from fishing here in Southwest Florida.
I was very excited when I saw photos of massive fish laid out on the deck, black swords gleaming towards the sky and large industrial looking electric reels pinned into the gunnels. He described his technique for positioning his boat against the current as the bait is dropped the first 500 feet, then spinning around and orientating yourself with the current as the bait and lead plummet another 1300 feet into the inky abyss.
Yesterday, as I woke up before my alarm at 3am, I flew out of town on empty streets and made a quick pass along alligator alley. Two hours and forty minutes later, I was shoving off the dock in a clean and rigged 34′ Michael Fitz. The single Cummings diesel began to sing as we floored the turbo, heading out of the inlet. Corey said we were in for a long ride, with our destination about 17 miles out. I laughed out loud thinking about fishing in 60′ of water off Sanibel at 17 miles out, not 1600′ or more.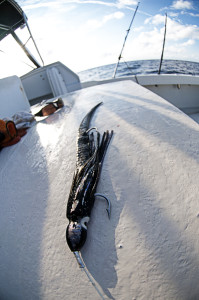 We arrived to Swordfish alley and I watched the first time as Corey perfectly executed each step of the process he had described in his emails. After seeing it done once, I was comfortable with the equipment and technique. Slow and steady, making sure to keep my fingers clear of the large reels arbor and gearing.
My excitement was high, but contained as we watched the rod tip bounce up and down, rolling with the swell of the Gulf Stream. Hours passed, yet nothing, not even a peck at the bait had been seen. Thankfully I was wearing my RCI Optics Monster Hole sunglasses which allowed me stay focused on the bite and not having to deal with a headache from eye strain or fatigue.
We began working depth lines, moving into slightly deeper water (around 100′) each pass. The "shallow" end started at 1680′ and our deepest pass was around 1860′. This was certainly some of the deepest water I've dropped a line into.
During our lunch, Capt. Corey made note that the best bites for swordfish occur in 2 hour windows around the moon rise, high moon and moon set. Moonrise was set for 3:45pm, so by his numbers, bites should occur around 2:45.
We continued to wait and watch the clock, hoping that this late in the day moon phase would trigger some activity. It did. Almost like clock work, our big Hogy Soft Bait was getting slashed at. Time – 2:50pm. The fish made two passes at the bait before getting hooked. Unfortunately the hook pulled just a minute or two in the the fight.
With our adrenaline back up, we repositioned our boat and made another drop. This time using a Black 18″ Hogy Soft Bait, just over the nose, we threaded a small pink octopus style skirt and added a squirt of pro cure scent.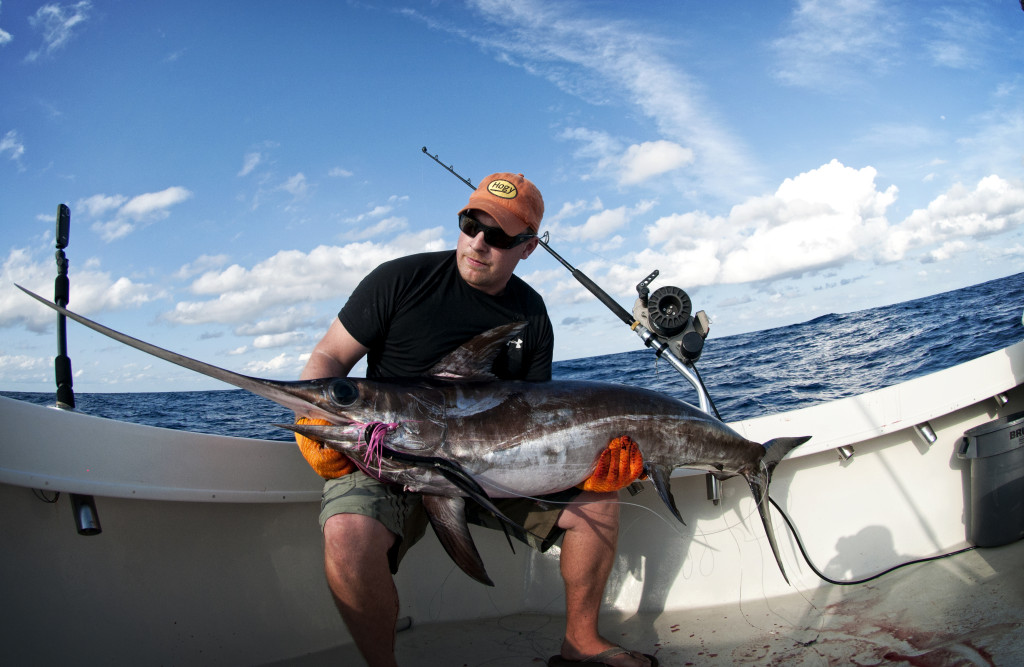 As soon as the bait hit bottom, we pulled our bait up 120 feet into the "feeding zone" and waited. It was less than 2 minutes before a feisty sword began attacking the bait. With a steady drone of the Lindgren Pittman LP-1200 Electric, the fish was hooked and coming towards the surface! Around 200′ feet, when sunlight became visible, the fish began making runs back into the depths. After a few short runs, I had the fish to the surface and began wiring the fish in. To my surprise and joy, we were able to see two different jumps from the fish. It was beautiful seeing the full body leap from the water and glisten deep purples and blues in the sunlight. I knew at that moment, I was hooked on daytime swordfishing! A few more moments passed and the fish was within gaff range. With steel to flesh and blood on the deck, my first swordfish was landed. Success!