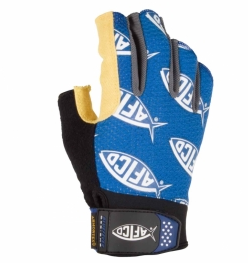 If you fish a lot, you know that your hands can really take a beating out on the water. If you tarpon fish, you already know gloves necessary to safely handle big fish boat side.
I recently purchased a pair of AFTCO Short Pump Long Range Gloves. I've got relatively large hands and went with the Extra Large size. I chose the fingerless option for increased dexterity when unhooking fish and quickly retying a line or leader.
After using these gloves for a week and a half on over a dozen tarpon, I can honestly say these are perfect for big game tarpon fishing. The glove's thumb and index finger are reinforced with super tough Armortex® that prevents braided lines from slicing into your fingers. The gloves feature a mesh construction that dries out quickly and never feels soggy. The large Velcro® strap at the wrist is very secure and quick to use.
I've also found that the materials used in these gloves doesn't hold odor and slime. I haven't washed the gloves yet and there isn't an offensive odor to them. Other gloves tend to smell pretty bad after only a day or two with out being washed.
At a price around $32, they are obviously a little more than bargain gloves. But as the saying goes, you get what you pay for. Build wise, I don't see why these gloves won't last through an entire season. For weekend anglers, they may last several seasons.
Treat your hands right and pickup a pair of them today!