Don't let those winter blues keep your tarpon game down. Head South East and spend a night chasing Miami's hot winter tarpon bite.
It was a quarter to 1am when I parked in a deserted maria parking lot in South Miami. After driving across the state a few hours earlier, I had spent the last 3 hours slowly moving up and down the beach front in my Tundra, scoping out the inlets and bridges, waiting to meet up with veteran tarpon guide Captain Russell Kleppinger.

Russell had just finished his first charter of the night, guiding TV host Peter Miller and his family on a quick, but frantic 7 tarpon trip. He was just rolling up to the ramp's floating dock as film maker, Patrick Rhea of LIVIT FILMS pulled up alongside me.
This was a first face to face meeting for all three of us. Our mission, to target Miami's hold over winter tarpon using Hogy's new SE Barbarian Jigs and HDUV tails.
With a full quiver of my favorite tarpon setups, featuring Shimano Sustain FG 10k's and a new Shimano TwinPower 8k PG paired on balanced 8′ Heavy Action Sewell Custom Rods, we headed into the nearshore glow of Miami's beach high-rises.
Immediately, we were in schools of adult tarpon. EVERYWHERE. After going nearly a month since my last adult tarpon, I was fired up and ready to get busy on these Miami giants. I must have fired 20 casts out, with only one strike to show for it.
I had quickly run through my normal set of retrieves, that have proven successful all over the state. Mid water twitch and sweep, surface slow roll, bottom hopping. Nada. One strike that left abrasion 8 inches up my leader from the jig head.
At this point, I felt like I was tarpon fishing.
Casting into giant schools of tarpon, being largely ignored. I've been here before, but know it's all about cracking the code, finding what they want, then repeating the technique until the tarpon turn your arms to jello.
Russell wasn't enjoying me not catching fish and asked to give a cast. I was all for it. "Get after it buddy!" I was ready for some action. Russell hooked up on his 2nd cast. Figures, his fish, he knows them and what they like. The fish ended up going in the mid 130lb class and took nearly an hour to land.
At this point, I was clued in to Russell's technique. We began slow rolling the baits just off the bottom, much slower than I've ever retrieved a jig for tarpon. The cold water had them slowed down a little, but they were eager to feed on a proper presentation.
It was a few minutes later, a school of 6-10 fish popped up and began grey hounding along the surface, we could see their heading in the moonlight. I immediately fired out a perfect cast, crossing their path at a 30 degree angle just a few feet past the. Ten cranks in, the rod doubled over and it was game on. My first February Miami Tarpon.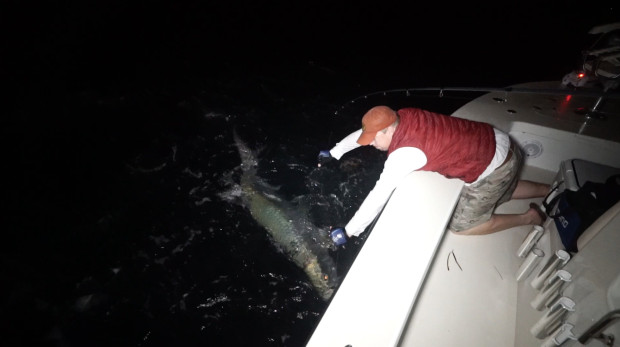 Make it happen!
Reach out to Capt. Russell Kleppinger for your chance to get on these winter giants. He's out there every night during the winter and caters to all walks of anglers. He specialized in helping fly anglers hook their first adult tarpon as well. (email: captruss1@bellsouth.net – Cell (786) 290-3474)