Snook in the Darkness – Sewell Rod for Large Soft Baits
Spring is finally here in Southwest Florida. Hot daytime temps have warmed inshore waters into prime temperatures for tarpon and snook feeding. Nighttime temps are very comfortable and with a little breeze, are relatively bug free.
Last night we decided to fish the outgoing tide and crab flush around Punta Rassa. We loaded the wells with finger mullet, a dozen green backs and spent 30 minutes scooping up several blue crabs that were flushing out with the tide. With a decent looking livewell, we setup near the Sanibel Causeway to drift live crabs for tarpon feeding in the inky darkness. Unfortunately for us, a passing front had blown the bay side into a rolling 3′ swell.
After an hour of drifting baits back in the current and almost zeros signs of life, we made a move to fish structure in heavy current. One of my favorite techniques for fishing the swing is stemming the tide in an anchored boat and casting heavy swim baits up current, then letting the current bounce them past structure and hope for a solid bite.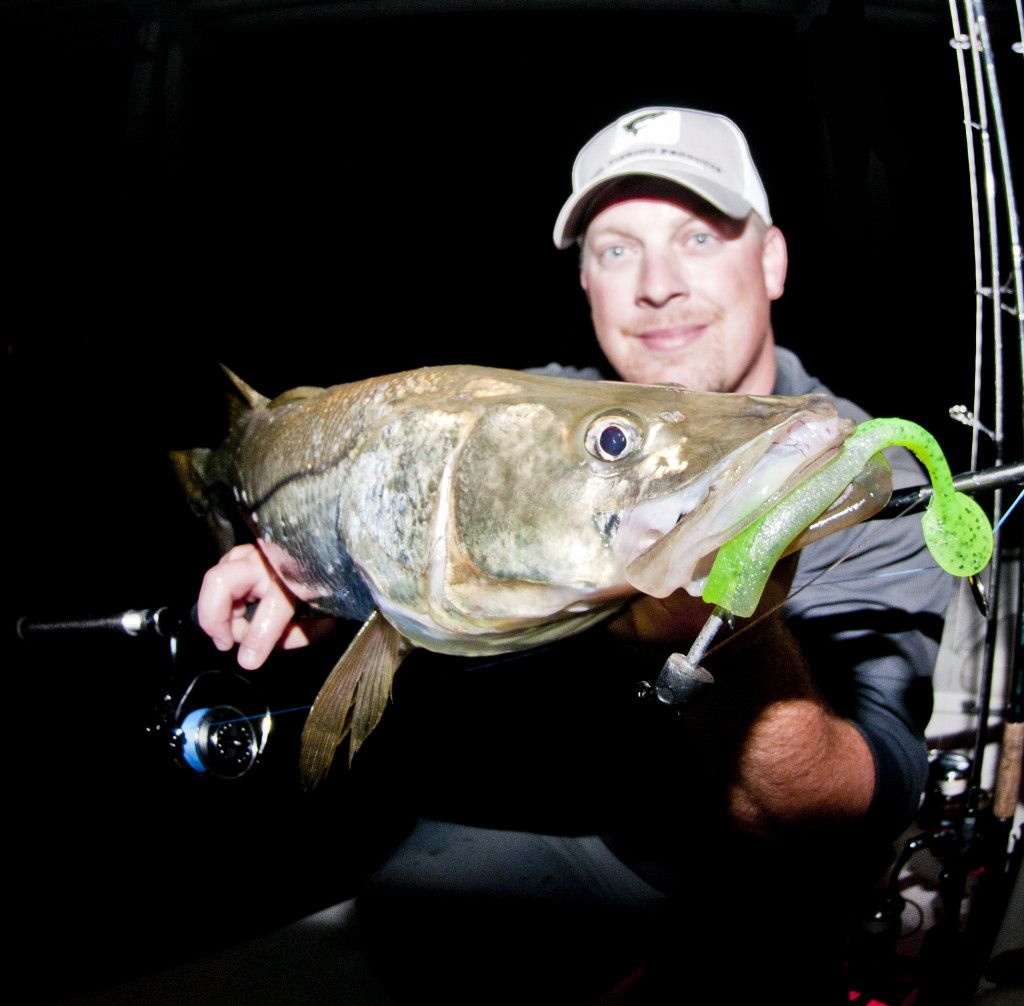 Heavy Swim Baits in Heavy Current
My choice bait tonight was the Hogy Lures 7inch Thumper Paddle Tail Series fished on a 1.5oz X-Strong Jig Head. The first two casts yielded a couple solid gag grouper that were released. After retying my leader, on my next drift I hooked into a solid 30″ snook that literally inhaled the swim bait. I'm convinced that the heavy thumping action of the Hogy Paddle Tail helps those fish sense and eat the bait in heavy current and darkness. Over the next 30 minutes, we boated 6 more snook up to 37″. A solid bite by any standards.
Finding The Perfect Heavy Action Spinning Rod for Large Soft Baits
For 5 years, I've been tossing heavy soft baits for everything that swims. I prefer to use spinning tackle when doing this, but I always struggled to find a rod that was comfortable to fish hours on end with repeated casting. Sure there are plenty of great meat sticks out there that certainly get the job done, but try to actively retrieve that rod 250 – 300 times per day. It'll wear your ass out quick!
Recently, I've met a very talented, local rod builder, Matt Sewell of Cape Coral. With an impeccable eye for detail, light weight components and unbelievable rod blanks, Matt makes some of the most performance driven and eye catching rods out there. With a wide array of rod styles, Matt probably has already created the rod of your dreams.
Unfortunately, neither of us had found the perfect rod for extensive casting of soft baits and jigs. I discussed my needs as a primarily artificial angler with unique speed, length and action requirements. Over a few weeks, we found the right blank and Matt applied his rod science to create an extremely impressive, super light weight spinning rod capable of casting baits from 1oz – 4oz like it is nothing. I paired it with a Sustain 10k FG with 50lb Power Pro Super Slick, possibly creating one of the most comfortable and functional combo for tossing my favorite soft baits and jigs (Primarily Hogy Brand)
The rod easily handled Hooking into and landing upper and over slot snook in heavy current. I load tested my drag for this rod and was comfortable using 11-13lbs drag at a maximum setting with out any issues. This range is perfect for snook and tarpon as drag settings much higher than that are going to result in a lot of pulled hooks.