Pine Island Sound Fishing Report: Redfish Everywhere
Our fishing adventure today began early. Up at 4am to drop a friend off at the airport, back to the house and loaded the gear up in the truck. At Punta Rassa boat ramp by 6am and north into Pine Island Sound we went. The cruise was comfortable on the Ranger Phantom as we pushed through skinny water on a morning low tide.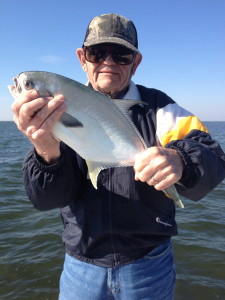 A couple weeks, red tide and 2 cold fronts had battered the sound sense the last time we fished this area. We were going in blind, but had a good idea where the fish should be. Fortunately, we were awfully close. Lowering the Power Pole we jumped in the chilly water and began searching for tailers along the edges on some oyster bars. We spotted a couple tails flying, but with a few casts and no fish, we made a move.
I was using my Yeti Tundra 50 as a casting platform and immediately noticed a small school of reds pushing baits, I tossed a Hogy Rabbit Swim Bait into the mix and hooked up. The school spooked after that, so we drifted a deep cut with shrimp and jigs. My grandfather found this nice pompano.
Later into the tide, I waded into some dark mud and began looking for sunning redfish. There was a nice school for 30 fish laid up and hungry. A quick cast again with the Hogy Swim Bait and it was fish on. I was able to hook up on 3 fish in that school before a hunting dolphin spooked the entire flat.
Not a bad morning of fishing in the great Pine Island Sound.