Loosing Sleep And Catching Fish
I love this time of year in South West Florida. Hot, sunny days have warmed our inshore waters into the upper 7o's and one of the year's peak fishing seasons is in full swing. Large schools of herring and sardines have taken residence in local waterways for the summer, hungry schools of tarpon and snook are not far behind.
While most prefer to enjoy themselves with a cold drink on a sandy beach, basking in the sun. There is a breed of anglers that have an afflication addiction to the night. If you look close enough you'll find them lurking in the shadows. During the day, you may be able to spot them. Fingers raw from  abrasive jaws, dark circles under blood shot eyes. Why do they do it? Night fishing offers the opportunity to hook into the fish of a lifetime almost every night.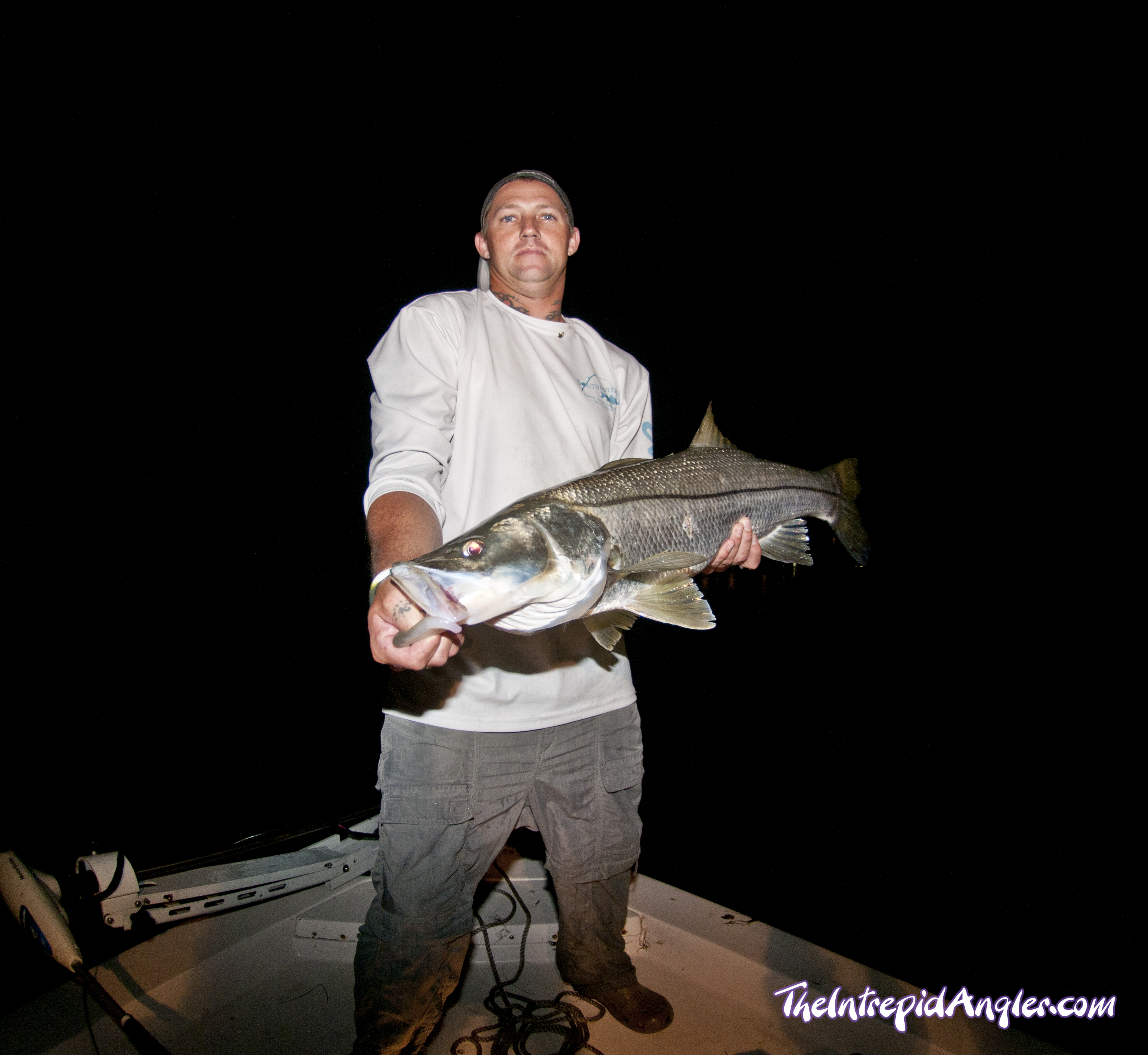 Over the past week, we have traveled north to south. Hitting most bridges in between. It's no secret that bridges hold snook and tarpon. You can take a look at any map, pick a bridge and have a good chance at experiencing the night bite.
If your new to bridge fishing, you'll soon learn there is a learning curve for being successful. First off, for the most part, you can forget using your favorite inshore rod and reel. Odds are, they are not heavy enough to get the job done. Is it possible to land a 40″ snook on 20lb braid in heavy current? Sure it is. Will you land them very often? Probably not.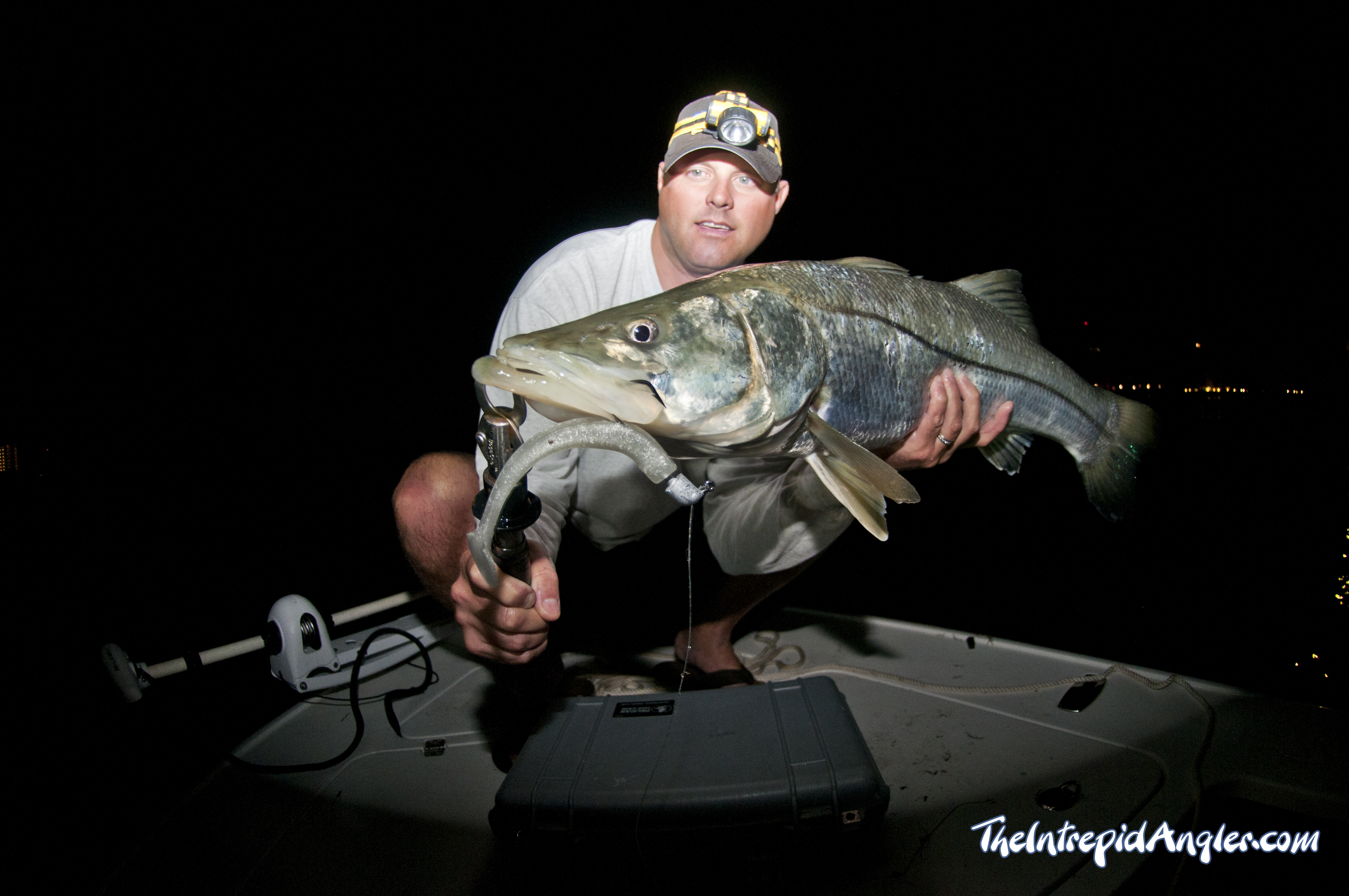 Bridge Tackle
Over the years, I've gotten my selection of gear dialed in for hauling out monster fish in heavy current. With the proper formula of rod, reel, line and knots, you can set yourself up for success.
Spinning Gear
I primarily fish artificial lures, daytime and night. I find spinning gear best suited for casting and jigging Hogy® soft baits and jigs. My preferred outfit for casting lures around bridges consists of a Sustain FG 10k loaded with Power Pro Slick 50lb. This reel is paired with a specific 7'11 Heavy Action Swim Bait Rod built by Sewell Rods. You'll want to practice your knots before going after these big girls. 80lb – 125lb leader is required for abrasion resistance and minimum stretch.
Conventional Gear
The most common wait to catch fish at night is using live bait. Conventional reels are perfect for dropping baits back in the current. It's a lot easier to find a conventional rod and reel for bridge fishing. Most grouper outfits will work. Make sure you've got 60lb – 100lb braided line loaded on the reel. Stout rods are great for hauling fish out of heavy structure. Light weight jigging blanks offer superior strength, while remaining very light in weight.
 What To Throw
Lures
My personal favorite way to fish at night. Not only effective, but it's exciting to manipulate a presentation to find just what the fish want to eat that night. I'll throw 7″ – 10″ Hogy Soft Baits on the surface or bounce the bottom with jigs. When bottom bouncing, adjust jig head size and use the lightest weight while maintaining contact with the bottom.
Bait
Living in Florida, it's hard to ignore the mass amount of bait fish swimming around. Fishing bait is simple. Cast net pilchards, greenies, ladyfish or ballyhoo. Stick them on a circle hook and drift them back towards structure. Try fishing them on top, if the fish are holding near the bottom, a 1oz – 4oz lead may be necessary to hold bottom.