The fishing here in Southwest Florida is just about to snap into over drive. Water temps are warmer than normal for this time of year and fishing is starting to kick off sooner than normal as well.
Bait: Threadfin and Sardines have shown back up in good numbers. Bringing with them good numbers of cobia, tarpon and mackerels. The best spots to look for bait are along the outer beaches and channel markers. White bait has been holding close to the buoy line along Sanibel and Fort Myers Beach. Pinfish are readily available if you take the time to chum near pot holes on nearly any grass flat in 3 feet – 5 feet of water. The entrance to is always a sure bet for catching bait this time of year.
Inshore
Redfish: Have generally been running in smaller broken schools of 10 – 20 fish. A few Large schools are still moving around the Eastern Sound, but getting them to bite can be tricky as they receive daily pressure from lots of fisherman.Stick to open flats in 1 – 3 feet of water, deep cuts adjacent to oyster bars will also be holding a few redfish as well. Live shrimp and live or fresh cut pinfish have been the favored bait. Keep your leader light and terminal tackle minimal for best luck. The inside creeks of the Ding Darling No Motor Zone have good number of large redfish right now. Make sure to abide by the pole and troll regulations when fishing these areas. Small soft plastic swim baits, like the Hogy Lures Bunny Series have been working very well for redfish.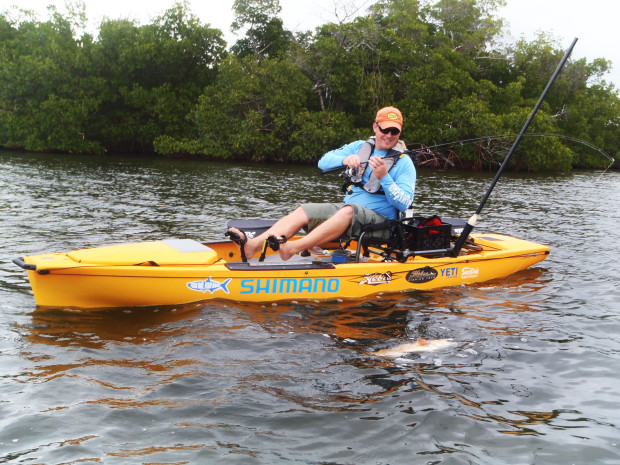 Snook: Good snook fishing has been going on the past few weeks. It seems most fish have awoken from their winter slumber and will soon be making their way west to area passes and beaches to prepare for the summer spawn. Right now fishing is very good along the entrance of the Caloosahatchee River, Matlacha Pass and Middle Pine Island Sound. Look for fish staging in sandy pot holes and ditches along the mangroves. Snook are biting well on Small Swim baits and Fluke Style Baits, like the Hogy 6″ Skinny Series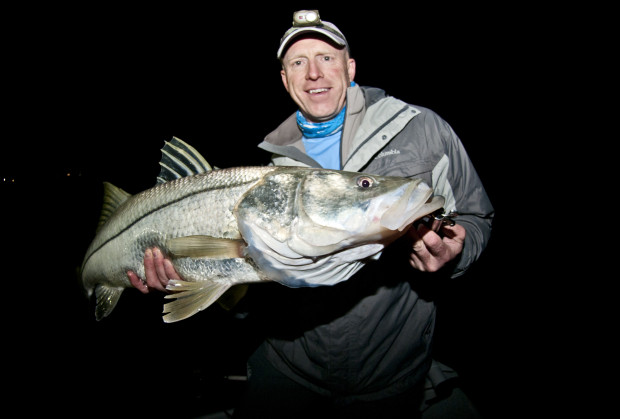 Trout: Trout are just about everywhere as usual. We normally don't target these fish, but they are often caught while targeting snook or redfish. Most soft baits and small jigs are working very well. Try sticking to mid bay flats in 3 feet – 6 feet of water for consistent action. Large fish can be found in small deep creek entrances around the area.
Tarpon:  A few tarpon have shown up along with the pods of threadfin herring. Although not consistent yet, there are fish to be caught. Put your time in and search along area beaches for signs of birds or bait. Chances are there may be tarpon, cobia or kingfish close behind.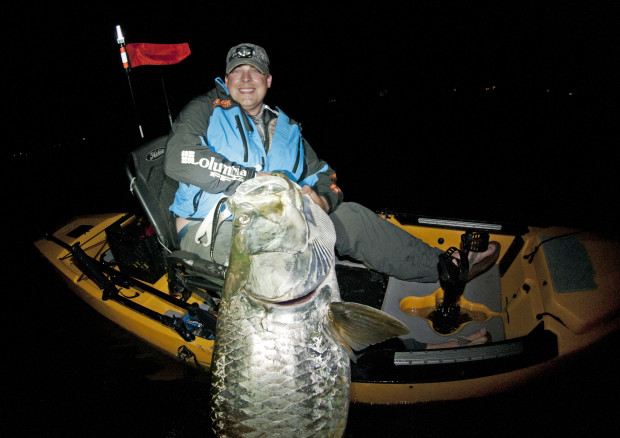 Offshore
There have been consistent cobia reports coming in. The best fishing has been near public reefs in 35 feet – 70 feet of water. Live pinfish, cigar minnows or Large Eel Soft Baits and been working great.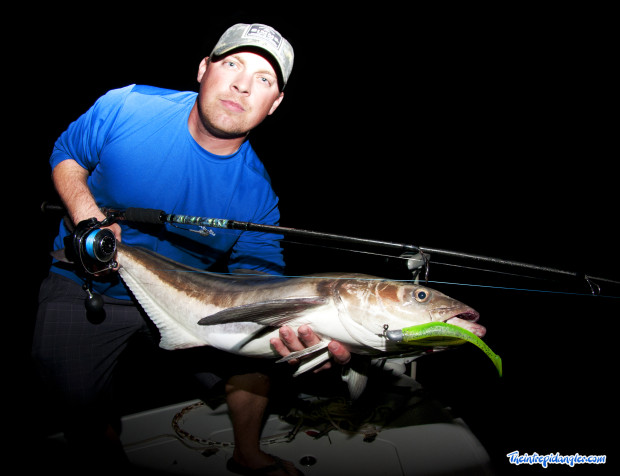 Grouper have been okay to good, although they have been hard to pattern which depth they are preferring right now. There have been better reports of keeper fish being caught out deep in 110 foot and beyond.