When you already live in paradise (Southwest Florida) where do you go on vacation? Most folks try their best to find a way to visit our neck of the woods, while us locals may want to find a destination up north.
During a recently family vacation, we made the long-day-trek northwards to Charleston to enjoy some new scenery and some good southern hospitality. Between the great fishing, mouth watering restaurants, local brews and plentiful outdoor parks for the kids, it was a fantastic place to play and unwind.
I connected with full time local fishing guide, Dillon Tucker Blythe of Grey Ghost Charters to get a bit more personal with the aquatic culture and scenery that Charleston has to offer. Setting off on his East Cape Vantage we quickly got on plane and shot across Charleston harbor and headed up the Cooper River in search of flounder and redfish.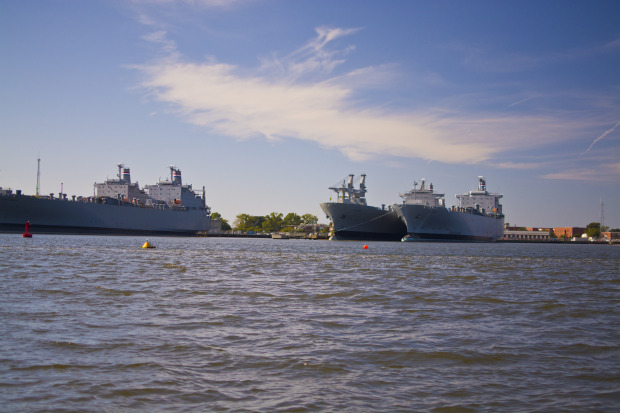 We were both in a laid back mood and opted to soak mud minnows on corks in the morning. We were on a full moon tide and the water was very off colored on the outgoing tide as it picked up untouched silt far up in the marsh. As we casually worked up current, positioning our casts on the outermost grass points along the bank, we came tight with some very feisty Low Country pumpkins. The first fish landed was a chunky 22.5″ redfish that apparently would have made an excellent tournament fish for the area. After a few pics, we kept working our shore line, landing several more redfish on the mud minnows.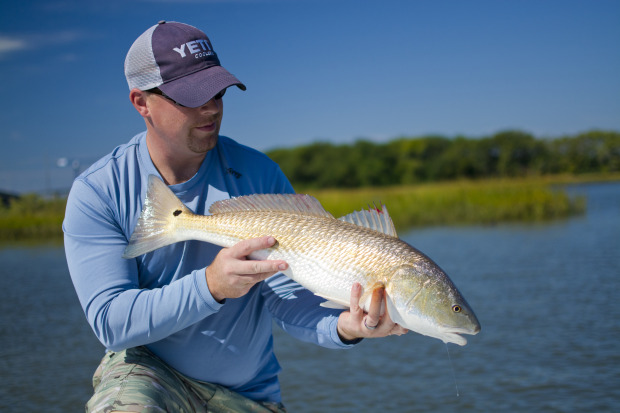 Feeling satisfied with our catch of redfish, we headed back into the lower bay for a glimpse of a unique fishery for cast netting jumbo white shrimp along the flats and channels near the coastline. Cast netting these massive white shrimp is seasonal, fortunately, my visit landed near the peak fishing. Armed with an eight foot cast net and a sonar, we worked a sloping flat in twenty feet of water adjacent to the shipping channel. Within a couple casts, we had already begun filling the deck with plump Low Country Shrimp just beckoning to join a boil!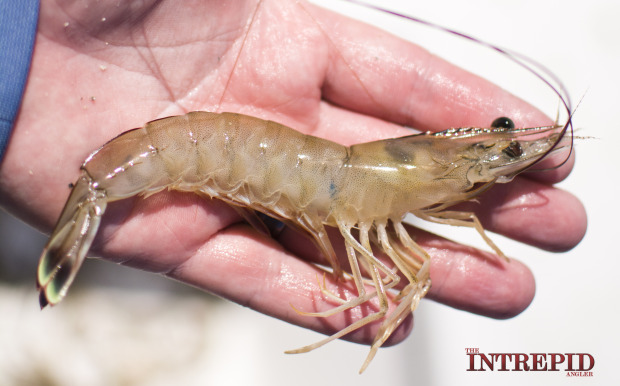 We continued netting shrimp for another hour or so, filling up half a ten pound ice bag. Being on vacation and without any decent means of freezing and preserving the catch, we opted to keep only what we could eat fresh.
It was nearly time to end our tip, but Capt. Dillon had noted the tide was excellent for some sight fishing opportunities using Hogy 7inch Original Soft Baits on a school of over sized redfish. We made a quick jaunt across the choppy bay, which was surprisingly smooth on the East Cape Vantage Skiff. As we reached the flat, Dillon jump on the polling platform and began pushing across the muddy foot deep flat. Luckily, for us, his resident school of redfish were happily floating on the surface in plain sight. As we inched foreword, I launched my Hogy 7inch Original Series perfectly in line with the approaching school. With a slight pause, I began twitching the large soft bait and a pair of aggressive bulls fought over the bait. It was instantly inhaled and I set the hook on my Sewell S1 Inshore Series Rod. As the rod doubled over, my line was peeling from the Sustain. Tangling with the larger redfish in less than 12inches of water offers quite the contrasting fight to the bait fishing of the morning. After another run, the fish began to wear and was brought boat side for a quick picture before release.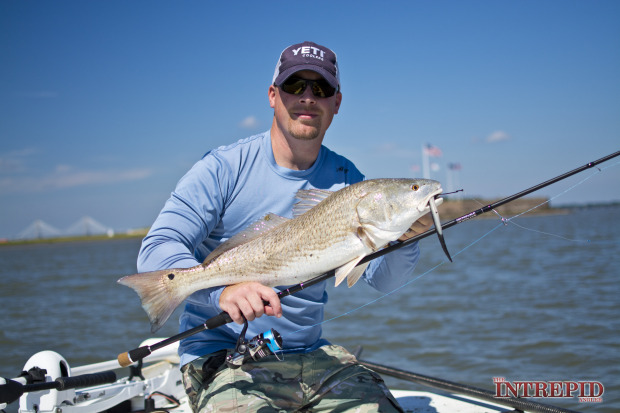 On our second day of fishing, we fished the afternoon low tides and opted to work some docks adjacent to deep water channels. It took a little bit, but we eventually stumbled into a school of aggressive slot and just over slot redfish staged under a floating dock. Each mud minnow we tossed nearby was quickly eaten. It was a fun having the added difficulty trying to keep the reds out of heavy structure during the fish.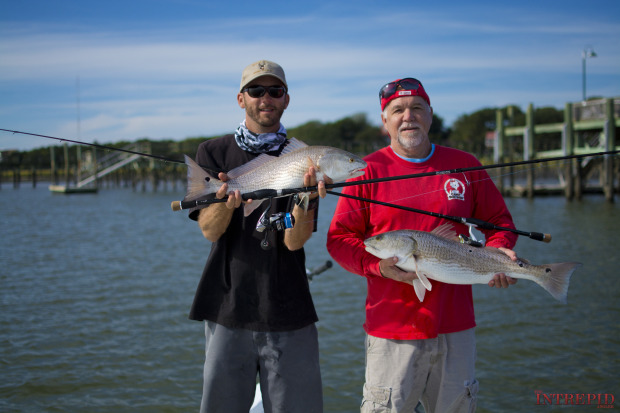 What an amazing and diverse fishery the Low Country has to offer. I'll be back again, you can bet on it!
– Capt. Ross