Over the past 10 years, I've had the opportunity to try our a fair share of production rods for inshore – light tackle fishing. Some rods were good, while others were lacking. It seemed like I was in a kind of "rod rut" and felt complacent fishing with sub-par rods. Granted they worked okay, but they weren't great. After a few hours of casting, they would often become uncomfortable, heavy and cumbersome. These attributes took their toll on my fishing success. Once you began to wear down, you wouldn't fish as hard. Right along with your effort going down the drain, your success would follow just behind it.
In early 2013 I had the pleasure meeting Matt Sewell, owner of Sewell Custom Rods. Matt is based out of Ft. Myers and has great insight into what makes a perfect rod for inshore – light tackle fishing. In his years of rod building, he has refined his selection to a limited, very high performing quiver of blanks.
I came to Matt with a very specific set of qualities I was looking for in a rod. Ideally, I wanted a ultra light weight blank for effortless casting and retrieving all day long. Not only did I need a light weight blank, but this rod needed to be super responsive and sensitive for finesse fishing jigs and soft baits. My final criteria was a blank that had the backbone to put the heat on large redfish, snook and small tarpon. Once I finished describing my "dream rod" to  Matt, I honestly anticipated to wait several weeks while he located a blank for me.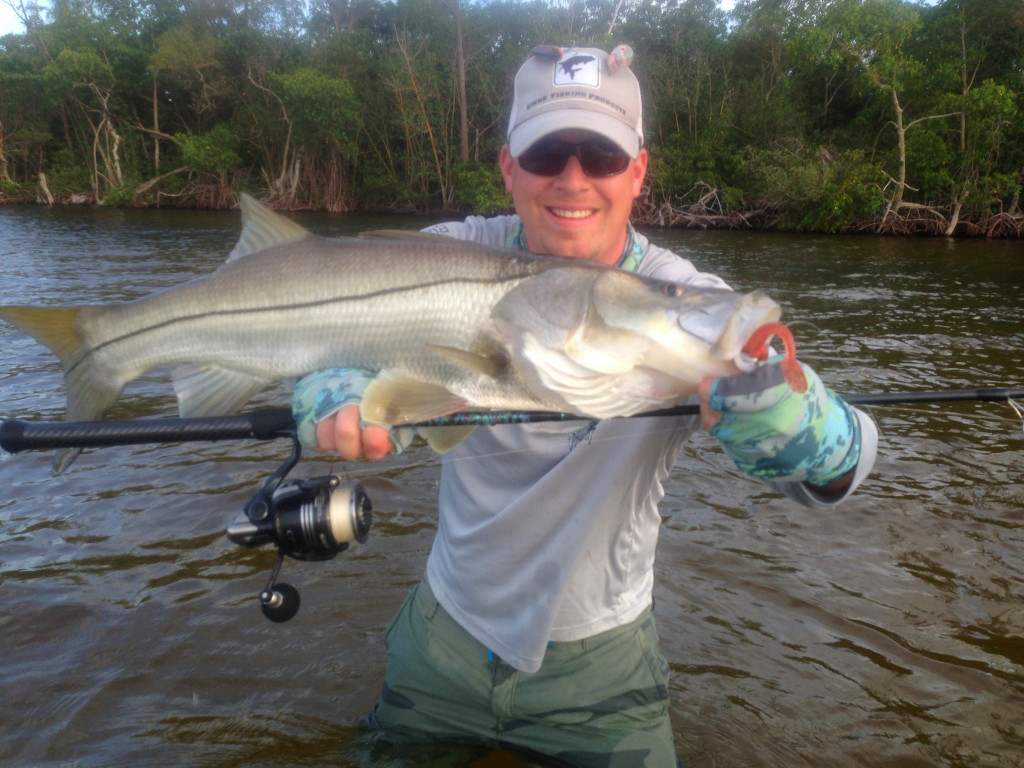 That was defiantly not the case! Matt walked into the backroom of his shop, pulled out his 7′ S1 Nano Blank and handed it over. It was love at first sight (grip)! The blank is super light weight, responsive and sensitive. It also has a very impressive backbone that loads perfectly under the weight of a nice fish.
So we all know that rods can feel like a dream in the shop, but once on the water we may start to notice small imperfections that escaped us at first glance. I can honestly say, I have not had any. It's been 10 months of HEAVY use inshore catching countless redfish, snook and juvenile tarpon. There hasn't been any quality issues and the rod still retains it's great fit and finish. I've now rotated out my entire inshore selection of rods and only use Sewell Custom rods.
I've paired all of these rods with Shimano Sustain FG 5000's. This high end, light weight reel perfectly balances with the rod. I've held rods paired with 2500 and 3000 size Sustain FG's and they were just as balanced.
It's been a real pleasure working and fishing with Matt, he is an outstanding individual that produces the best available custom rods on the market today. Please, if you ever thought about creating the "perfect"  rod, look no further that Matt Sewell and Sewell Custom Rods.
The best way to reach Matt is via Facebook – Sewell Custom Rods Facebook Page