Gear Review: Otterbox Armor Series iPhone 4/4S Case
I've been using a new iPhone case from Otterbox the past few weeks. The Armor is marketed as the ultimate waterproof, crush proof, dust proof possibly baby proof case for your beloved smart phone. I'm still using an iPhone 4s and use the corresponding case, which is offered in a two-tone matte grey and neon green accented design. Two stainless steel clamps securely fasten the two sided case together, forming the waterproof seal (rated to 6′ for 30 minutes). Over all, it's a very cool looking and functional phone case.
For the past year I've had to lug around a small pelican case when bringing my phone out on the water. While it was great at keeping my belongings dry, it was a pain to dip in and out of the box to check emails, answer calls and check weather apps.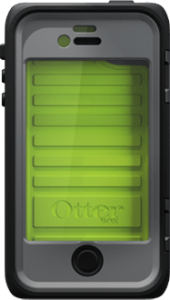 How Good Is It?
Now I can leave my phone in my pocket all day on the boat with confidence. Throwing the castnet, jumping in the water or wading across the flats, my phone is still within reach and ready to handle anything I can throw at it. It's quite ideal for those active in the marine environment.
The touch screen is still very sensitive and doesn't seem to be hampered by damp hands either. I can't notice any difference when typing out long messages or emails on the touch screen. The home and volume buttons feel secure and responsive. The side clamps take a good amount of prying to open up, but I take this as a good feature.
It says that the charging and headphone ports can be used freely, but I am still a little reluctant to charge the phone while in the case. I would be the one to pull it off the charger, jump in the pool and not have the seal completely tight. But, even with this slight inconvenience, its really pretty sweet.
Things To Consider
While this case has impressed me with it's ability to keep my phone dry, intact and have great touch response, call quality is diminished a little. Trying to have a conversation in certain conditions can be a little difficult. I've mainly experienced this in locations with loud backgrounds or talking to people with poor hearing. This is not a total bust for the product what so ever, but it should be considered.
Overall
This is THE PHONE CASE for anglers, boaters and kayaks who need to have their phone accessible while enjoying their favorite activities.