Gear Review: Hobie 2013 Pro Angler 14
There are a lot of reviews out there covering the full specs and tech of this boat, so I won't go into many of them in here. What I would like to elaborate on is my fishing experience on the Hobie Pro Angler 14.
I splashed the boat yesterday for the first time. Unloading this heavy boat wasn't too bad from the bed of my pickup truck. There was a 40 yard hike from my vehicle to the waters edge, transporting the PA 14 using the trolley wasn't bad, a little heavy but not too bad.
Once I got it into the water, the crafts stability was apparent. There was a low surf of about 20″, but getting into the boat wasn't difficult. I did use a paddle to push out from the surf, then inserted the mirage drive. On a side note, make sure you adjust the pedal height setting before getting in the water. I made that mistake and spent the next 10 minutes getting myself adjusted comfortably.
The mirage drive proved to be an excellent method of propulsion. I was easily doing twice the speed as paddling moving down the river. I compare the resistance from the pedals like being in 10th gear on a 12 speed bike. A moderate amount of resistance, but very easy to keep a good pace with out too much exertion.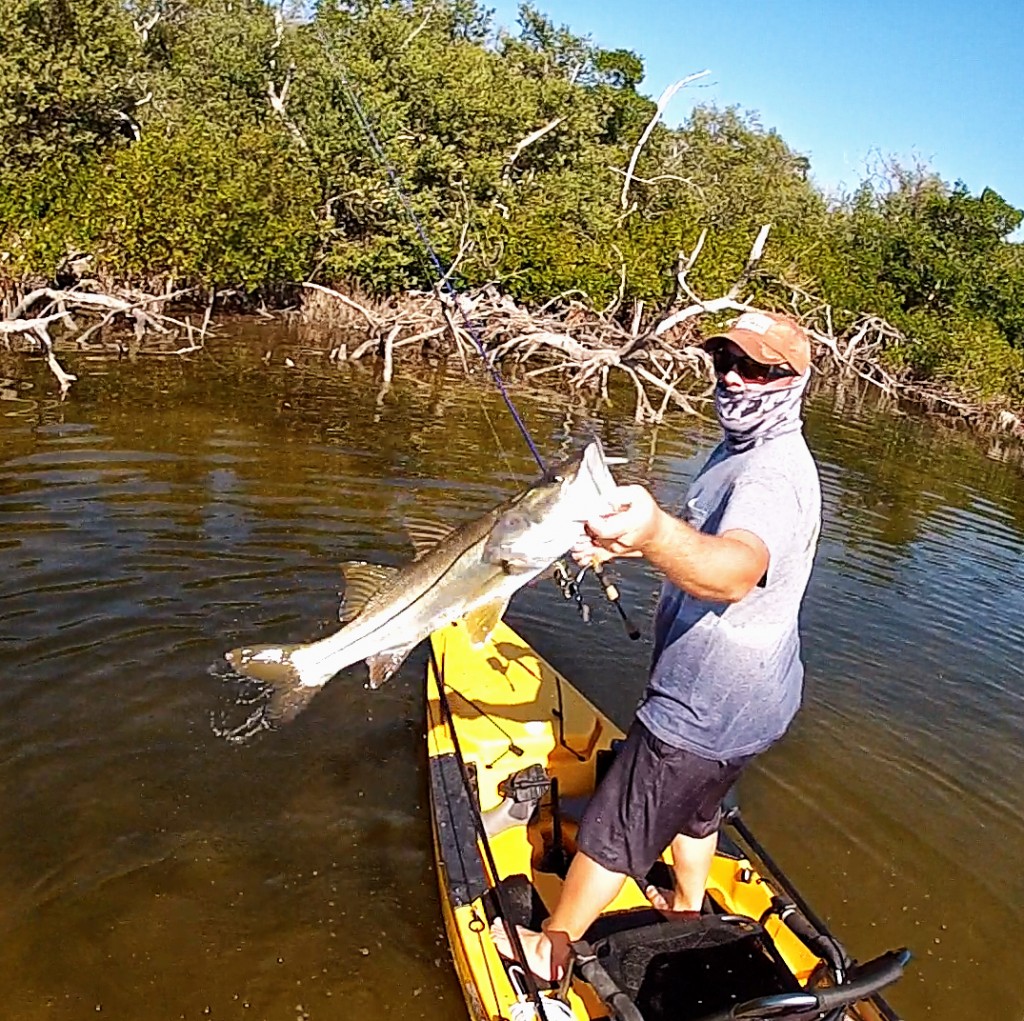 These days it seems like I don't have nearly as much time to fish as I used to. Long gone are my day long fishing excursions. They have been traded in for short 2-3 hour jaunts when I can sneak one in. One major advantage of the mirage drive system and the Pro Angler 14: Efficiency! I set off on a 2 hour "pedal" and found that I wasn't in as much of a rush to get there as with other kayaks. The speed I was able to cruise was around 3.2 Knots at a comfortable pace. The hand free accessibility allowed me to effectively double my fishing time on the water. This is fantastic for me and my frequent short trips out on the water.
I cruised at a moderate pace parallel to the shoreline and docks, fishing my way down river. I would have been able to do this in a standard kayak, but it would have taken 3 times as long to cover the same distance. When fishing this length of river, it is all about covering ground. There can be some great fish to catch, but they are often spread out and move often. Moving faster and hands free allows me to spend more time fishing, thus catching more fish!
I really enjoy the rudder system on the Pro Angler 14 as well. I had read some reviews that it was a little cumbersome, but in my opinion it was very easy to adjust, even when fighting a fish. I really found it handy when I needed to change my heading while fighting a snook out from under a dock. It was very convenient to steer and pedal away to help pull the fish away from structure.
Overall, my first impressions for using the Hobie Pro Angler 14 for fishing are very positive. There are many videos out there showcasing customized setups for these boats, but as I told my self and I recommend to you, get out there a few times and fishing in the factory condition. I'm sure it will give you a much better idea of what you need and where you want to mount various accessories.
– Capt. Ross