I don't think there's a better way to kick off a new year than a solid day out on the water, catching big fish with good friends. We headed offshore today with intentions of targeting Yellowtail Snapper and Red Grouper some 40 – 50 miles offshore of Captiva, FL.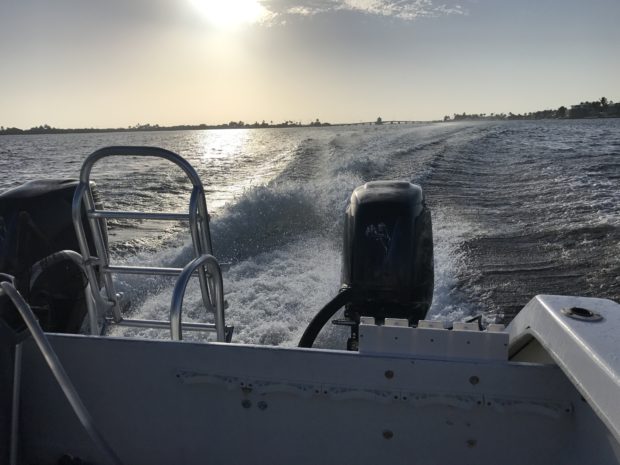 We were greeted with some lingering two to three foot seas, but they weren't much of an issue for the 36′ Catamaran. After making some shallow stops to fill up the livewell with pinfish, grunts and spot tails, we cruised out to some decent sized ledges in one hundred feet of water.
On the way out, we crossed paths with a small pod of spinner dolphins, but other than that, the surface activity was pretty quiet. Recent reports of Blackfin Tuna close to shore kept out eyes on the horizon, but to no avail.
As we pulled up to the first ledge, the bottom was pretty well lit up with fish showing along the bottom 15 feet. We deployed a chum bag and began free lining small jig heads with shrimp and squid. The jigs began hooking up Yellowtail Snapper by the time the jig hit bottom. I opted to use the Hogy 1.75oz Squinnow Jig, tipped with a small bit of squid. This heavier jig would get down into the strike zone quickly. Both methods produced a nice pile of Yellowtail, and after an hour or so, our wind and tide shifted, shutting down the bite.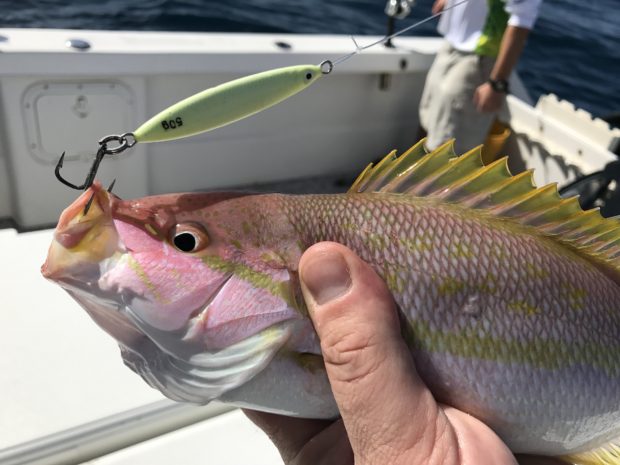 We decided that a couple dozen Yellowtail were enough and pushed towards the grouper grounds. Gag grouper are currently out of season, so we opted to drift fish live bottom areas for Red Grouper. We sent down a mix of live grunts, frozen sardines, squids and of course a big Hogy SE Barbarian Jig & Eel Tail. The first bait to get chomped was the Hogy Eel. It's always great to get that first grouper in the box.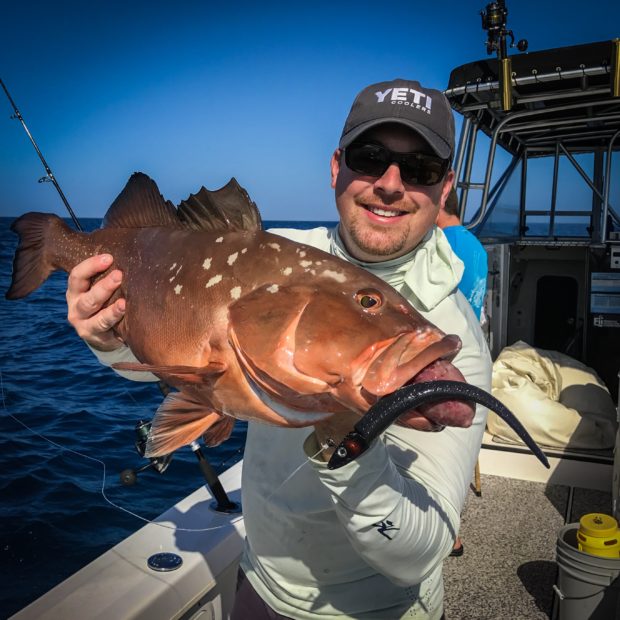 Surprisingly, the Red Grouper were holding very tight to a small, low profile rock pile. Generally, it's common to catch Red's over a large area of live bottom, but today they were holed up and hanging tight to one spot. We made several drifts of that small rockpile and continued to pull up some solid Red Grouper.
Finishing off the night with fresh caught grouper cheeks! Nothing better than that.